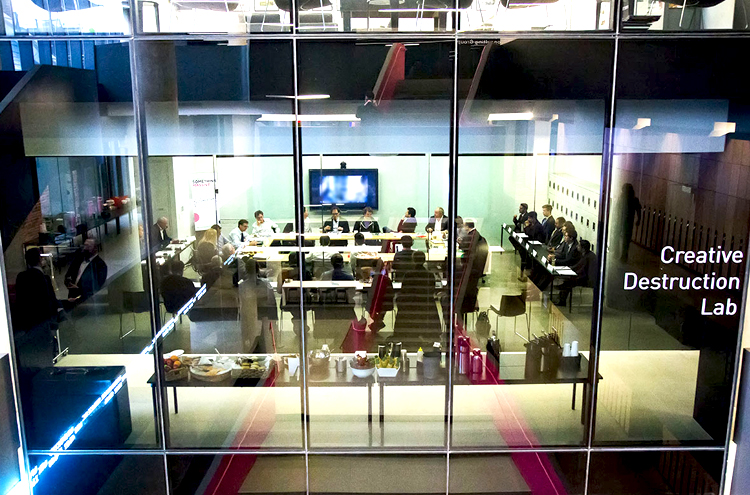 Canada's largest bank is bolstering artificial intelligence and machine learning research at the University of Toronto – and startups launched by students and faculty.
Posted on October 22, 2016
A new agreement between RBC and U of T sees the global giant join forces with Rotman School of Management's Creative Destruction Lab, one of 10 campus-led accelerators at U of T, supporting the entrepreneurial aspirations of students from idea to intellectual property.
The bank has been named a founding partner of the machine learning initiative at the lab, and its donation will support programming to help attract and develop even more startups in this booming and ever-expanding field. Already, the Creative Destruction Lab is home to 50 artificial intelligence companies.
"To our knowledge, this is the greatest concentration of AI companies in any program on Earth," says Rachel Harris, director of the Creative Destruction Lab. "We're thrilled to partner with RBC on this initiative. With their support we are able to scale our program."
Gabriel Woo, RBC's vice-president of innovation, added: "We share a strong commitment to the study and advancement of artificial intelligence with the University of Toronto, one of the world's leading institutions in this space. Our partnership with the University and the Creative Destruction Lab is an extension of our ongoing support of the Canadian digital ecosystem."
Bringing the brightest minds to bear on machine learning
In addition, RBC is establishing RBC Research in Machine Learning at the Banting & Best Centre for Innovation and Entrepreneurship, home to several campus-grown startups and across the street from the MaRS Discovery District.
"RBC Research in Machine Learning is part of our commitment to the advancement of machine learning and artificial intelligence in Canada," says Woo. "We are not only building our own capabilities, we're also big believers in creating jobs in this space to retain the amazing talent we have in Canada. We're working with leading universities across Canada like the University of Toronto to partner with the best, brightest and boldest minds in the country."
Foteini Agrafioti, a successful inventor and entrepreneur with strong U of T roots, will head up the state-of-the-art research practice, focused on pushing the boundaries of the science around machine learning.
This has really never been done before in Canada
Under her leadership, the RBC Research in Machine Learning team will collaborate with academics from U of T and other institutions, publishing new research in the fields of machine learning and artificial intelligence.
"This has really never been done before in Canada," Agrafioti says. "We've lost so much talent in this country to other companies and institutions, but RBC has both the scale and commitment to ensure Canada remains a centre of excellence in machine learning."
A U of T Engineering alumna, Agrafioti is best known as the co-founder and co-inventor of Nymi, the first wearable device to authenticate users using the biometric technology HeartID. She's also a 2012 U of T Inventor of the Year and a graduate from the Creative Destruction Lab's first cohort.
Support for students, innovators and entrepreneurs
Earlier this year, RBC and U of T announced a five-year, $3-million partnership that includes the creation of ONRamp, an accelerator for students, entrepreneurs and startup companies to support them in developing commercial ideas.
The deal also includes funding for post-doctoral and graduate fellowships, as well as the RBC Innovation and Entrepreneurship Speaker Series, which holds its first event on November 8, 2016 with Brad Katsuyama, CEO of IEX Group and hero of the bestselling book Flash Boys, and John Stackhouse, senior vice-president, office of the CEO at RBC and a contributor to the Munk School of Global Affairs.