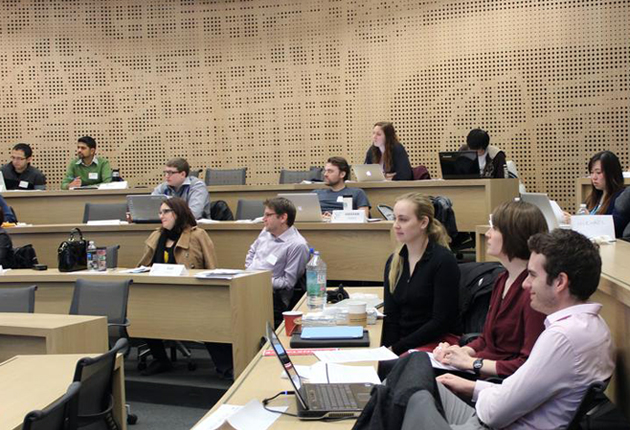 Backed by eight visionary partners, the Creative Destruction Lab at the Rotman School of Management aims to turn new technologies into profitable businesses.
Posted on April 22, 2013
How do you turn bright tech ideas developed at the University of Toronto into successful startups? Backed by eight visionary partners, the Creative Destruction Lab at the Rotman School of Management aims to answer this question by combining the best aspects of mentorship, technical advice, access to venture capital and the competitive spirit. The Lab's eight founding supporters are more than funders: they are engaged advisors guiding the development and application of exciting new technologies developed at U of T.
The Lab, launched in September 2012 and now nearing the end of its first successful year, helps technology-based startup companies create new products, scale up production and build value.
"The University of Toronto is a remarkably rich research environment that generates more innovative output than any other institution in the country," says the lab's director, Professor Ajay Agrawal, Peter Munk Professor of Entrepreneurship. "We're experimenting with novel approaches for addressing market frictions on and off the campus with the goal of facilitating massively scalable companies predicated on U of T inventions and using the Lab environment to deliver world-class entrepreneurship education in the process."
The term "creative destruction" was coined by Joseph Schumpeter, the celebrated economist of innovation, in 1942. It refers to the process by which new technologies contribute to the overthrow of the old economic order, often along with companies that fail to keep pace with technological edge.
The eight founding partners have donated a combined total of more than $2.1 million. But they did more than donate. They have become part of the program itself by helping U of T's next generation of high tech startups enter the marketplace successfully.
"The magical thing about the gifts from the Lab's founding partners is that each one came coupled with expertise, vision and enthusiasm that enabled us to deliver a first-of-its-kind program that would have been impossible with money alone," Agrawal says.
The founding philanthropists are:
Dennis Bennie, founder and CEO of XDL Capital Corporation, a venture capital firm focusing on Internet software
Daniel Debow (JD/MBA 2000) and Jordana Huber. Debow is co-founder and co-CEO of Rypple, a social performance management platform, and co-founder of Workbrain, an enterprise software firm
Ernst & Young, a global leader in assurance, tax, transaction and advisory services
The John and Deborah Harris Family Foundation. John Harris (MBA 1977) is chairman and chief executive officer of Harris Steel Ltd.
The Kavelman-Fonn Foundation. Dennis Kavelman, a graduate of Rotman's Director's Education Program, is the chief operating officer of Desire2Learn, a global leader in cloud-based learning solutions, and the former chief financial officer and co-chief operating officer of Research In Motion
Osler, Hoskin & Harcourt LLP, a leading business law firm practising nationally and internationally from offices across Canada and in New York
Dan Shimmerman (MBA 1996), founder and CEO of Varicent Software;
Nigel Stokes (MBA 1987), chairman of the board of AppZero, specializing in moveable server applications for businesses, and co-founder of DataMirror, a real-time data integration company.
Among the first U of T-based ventures to participate are:
Bionym, developing and licensing biometric recognition technologies;
Thalmic Labs, creating a new technology for seamless interaction with the digital environment;
Vote Compass, an interactive electoral literacy application developed by political scientists for election campaigns; and
Nine other ventures based a wide array of new technologies, including a molecular simulator that will enable the rapid development of new pharmaceutical products and a motion control system that operates in three dimensions.
Meetings between the U of T participants and a Group of Seven fellows–including four of the Lab's founding partners–are an essential feature of the Creative Destruction Lab. The members of the group, known as the G7, are experienced entrepreneurs who have created and built technology-based businesses. Every six weeks the participating U of T entrepreneurs meet the members of the G7 who set milestones for the next meeting. Each venture then reports on its progress and the G7 provides feedback, introductions to industry leaders and new milestones.
At each meeting the G7 identifies the lowest performing venture, which is dropped from the program, allowing the Lab to focus additional resources on those with the greatest chance of success. But everyone wins. All the participants gain valuable knowledge and experience, improving their future prospects, while the best ventures go on to receive the additional support they need for success in the near term.