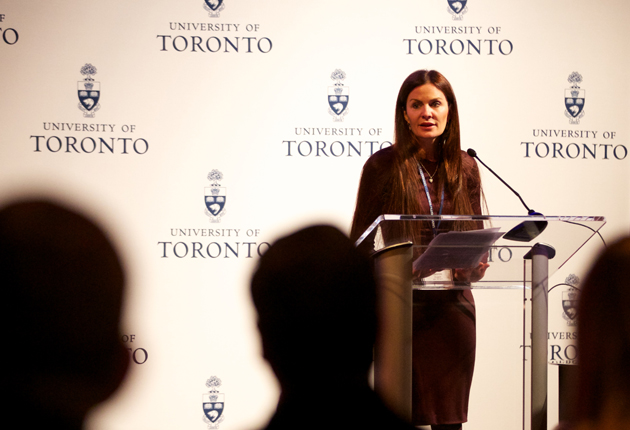 In February, U of T reached out to alumni and friends in California who are playing a leading role in the Bay Area's dynamic innovation economy.
Posted on April 22, 2013
The Innovators Reception, co-hosted by Campaign Executive member Melinda Rogers (MBA 1997), Senior Vice-President Strategy and Development at Rogers Communications and Founder, Rogers Ventures, along with U of T President Naylor, celebrated the power of discovery and entrepreneurship that is thriving among our alumni both in California and worldwide and provides an example of how U of T is continually facilitating alumni connections among diverse groups of graduates.
The reception provided a look at many of the cutting-edge discoveries emerging from the University and the implications of these breakthroughs.
Keynote speaker Dr. Peter Zandstra of U of T's Institute of Biomaterials and Biomedical Engineering, described the revolutionary potential of his work to transform drug testing and to eliminate the need for bone marrow transplants and insulin injections, among other applications. The event was an opportunity for alumni to celebrate the power of discovery and entrepreneurship, to meet fellow graduates in the area, and to get an inside view of the breadth and depth of U of T's innovation agenda.
U of T's busy calendar of alumni programs and gatherings also included an event in London March 14 hosted by University Chancellor Michael Wilson. The occasion provided yet another opportunity to celebrate the achievements of alumni in the area, and to renew and strengthen ties. The London event included, among others, teachers, researchers, public servants, and business leaders, each exemplary U of T ambassadors and champions.
Along with regular visits to alumni groups worldwide by senior University staff and representatives, U of T mobilizes about 90 regional alumni representatives around the world. This global network of volunteers helps organize activities that connect alumni and ensures that our graduates remain engaged in university life.
Learn more about U of T's many regional alumni groups.