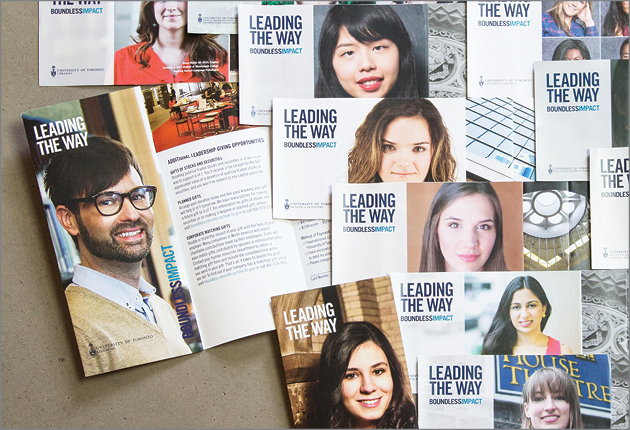 Annual giving reached new heights in 2013-14 as Boundless: The Campaign for the University of Toronto created an atmosphere of both expectation and enthusiasm among alumni and friends.
Posted on July 11, 2014
Donations for the year ending in April of gifts less than $25,000 totalled a record $11.5 million, a rise of three per cent over the previous record, established in 2012-13. The number of donors also rose, by 4.9 per cent to 21,401.
"There is no question that the University is being lifted, through the campaign, by the combined support of thousands of alumni and friends who demonstrate their commitment to higher education every year," said David Palmer, Vice-President of Advancement. "The University would not be the great place we know without this commitment."
Impressive as the totals are, they can be broken down into components that demonstrate clearly the importance of giving at all levels.
The cumulative impact of all annual giving, $11.5 million, is the equivalent to the payout of an endowment of $384 million. This remarkable generosity creates real benefits and learning opportunities for young people who are determined to do their best and contribute to society.
Temitope Olanbiwonnu is pursuing her Bachelor of Science degree. After completing high school in Jamaica, Temitope chose U of T's New College for its reputation for diversity, inclusion and student support. The recipient of numerous scholarships for academic merit, Temitope credits donor support for enabling her to focus on her studies and do volunteer work. "Without donor support, I would be unable to explore other opportunities to compliment my studies," she says.
Matt Hiesie is studying Industrial Engineering with a minor in Engineering Business. He wants to create new technologies that have a positive effect on society. "Thanks to donor support, I have access to an incredible variety and depth of courses, exceptional professors and world-class technologies, as well as the ability to engage in extracurricular activities," Matt says. "I am deeply grateful to the alumni and friends of the faculty. They are ensuring that Skule [the Faculty of Applied Science and Engineering] remains a place where human potential is unleashed and great ideas and innovative technologies are born."