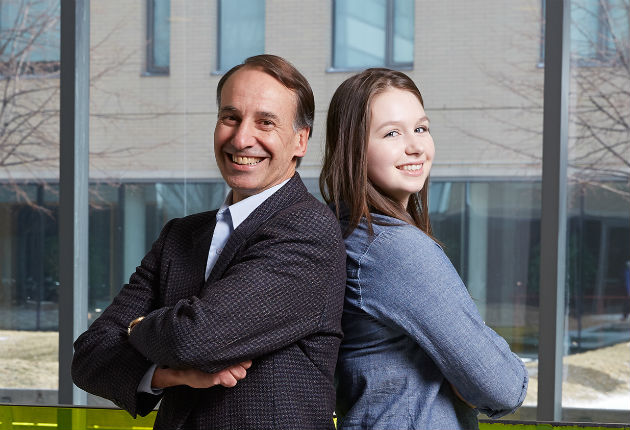 David Scrymgeour (BCom 1979) calls his commerce degree the foundation of his successful career as an entrepreneur. His $1.5-million gift to endow the Building Canadian Leaders Matching Scholarship Program is aimed at supporting the next generation of entrepreneurs like him.
Posted on July 11, 2014
An innovative entrepreneur, Scrymgeour has consulted a variety of corporate, community, and political organizations. He is also the current Executive-in-Residence for the Rotman Commerce program.
Two years ago, Scrymgeour established the Scrymgeour Scholarship in Entrepreneurial Management at Rotman Commerce, aimed at students who demonstrate both academic excellence and an involvement in sports and extracurricular activities, community engagement and an entrepreneurial spirit.
Like Scrymgeour's earlier scholarships, the new ones will be awarded on the basis of academic achievement, in combination with involvement in sports and other extracurricular activities, community engagement and leadership potential, with preferred enrolment in the management and the finance and economics specialist streams. Under the Building Canadian Leaders Matching Scholarship Program, donations of $25,000 or more to establish endowed scholarships at Rotman Commerce will receive a dollar-for-dollar match.
"As a U of T Commerce graduate, I have always looked forward to one day returning to the university to reinvest in the program," says Scrymgeour. "I was so delighted with the result of the first scholarship that I set up that I wanted to expand with a matching fund to encourage others wishing to create their own endowments."
It's a way, he says, of inspiring individual and corporate donors to support outstanding students who contribute to the success of organizations and the betterment of communities in Canada and around the world.
"Every successful Rotman Commerce applicant has incredible academic potential, so the goal of these awards is to go beyond that to seek out and reinforce students who demonstrate a strong and ongoing commitment to community," he says. "As someone whose journey has happily crossed paths with many successful builders in all sectors of society, I know it is the well-rounded and broadly interested individual who makes the biggest difference."
Ken Corts, Associate Dean of Undergraduate Education and Director of Rotman Commerce says: "This initiative will play a vital role in attracting the brightest and most engaged students from across Canada, enhancing the quality of our program and the value of the BCom degree at a critical time when other universities are able to offer more substantial entrance scholarships."