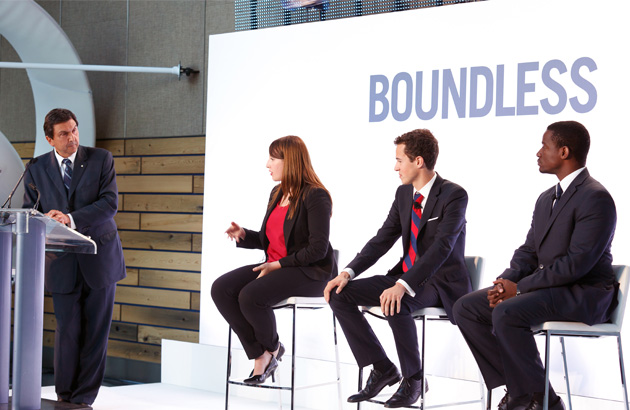 At a recent event featuring U of T's three newest Rhodes Scholars, President David Naylor announced that Boundless: The Campaign for the University of Toronto is more than two-thirds of the way towards its historic $2-billion goal.
Posted on October 23, 2013
Lake Ontario provided a stunning backdrop to the event, which included a panel discussion at Corus Quay with the scholars — Joanne Cave, Connor Emdin and Ayodele Odutayo.
The panel was the highlight of an event hosted by President David Naylor, Chancellor Michael Wilson and John Cassaday, President and CEO of Corus Entertainment, to celebrate the Boundless campaign's success to date. As of September 30, more than $1.35 billion has been raised for the University's highest priorities.
Naylor thanked the alumni and friends who attended the event, saying "today, as never before, we are dependent on public-spirited individuals like you. Without you, we simply could not fulfill our mission."
John Cassaday, a member of the Boundless campaign executive and a long-time volunteer for the University, also praised alumni, volunteers and donors for the "magnificent support" they have given and continue to give the University.
"Thanks to the enormous energy and momentum you've helped build, we are more than two-thirds of theway towards our historic $2-billion goal," said Cassaday.  "There is more work to be done. But if our current trajectory is any indication, we will have many more milestones to celebrate before too long."
The energy, momentum and impact referenced by Cassaday were also reflected in a new Boundless video played at the event.
The Rhodes panel discussion, which was moderated by Naylor, highlighted the University's commitment to preparing global citizens—a central theme of the Boundless campaign.
Prof. Naylor, who completed his D.Phil. at Oxford as a Rhodes Scholar, asked the students where they see themselves in 10 or 15 years. Cave, who will study comparative social policy at Oxford, said she would like to work in the public realm and has not ruled out running for political office. Emdin, who plans to study the relationship between public policy and health outcomes, hopes to work first at the World Bank, but may later join the Canadian civil service. Odutayo plans to pursue a career in academic nephrology in Canada after completing his Master's degree in public health and health policy.  Naylor was enthusiastic about their plans and noted that Emdin, Cave and Odutayo were three "extraordinary young people who want to change and improve the world."
Chancellor Wilson, who also spoke at the event, added that the students "shine with rare brilliance" and "share with all our graduates a desire for high achievement. They are determined to use their talents to the fullest. And they have the character and conviction to lead."
Wilson also noted that this was the first time in 40 years that the University of Toronto had three Rhodes Scholars in a single year, and that the three students have something else in common: throughout their time at U of T, they have each benefited from scholarship support.
Emdin, Cave and Odutayo will begin their two-year program at the University of Oxford this fall.