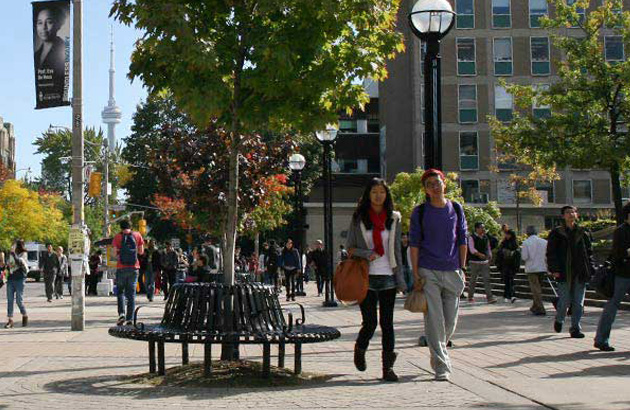 U of T has been recognized with a number of impressive awards and honours this fall, including being named the top university in Canada and one of the top 20 in the world in the 2013 Times Higher Education (THE) World University report.
Posted on October 23, 2013
U of T ranked 20th globally, up one spot from last year. This is the second time in less than a month U of T has ranked in the top 20 and first in Canada in a major global rankings survey.  In September, U of T was ranked 17th in the QS World University Rankings. In August, it was also tops in Canada in the research-focused Academic Ranking of World Universities. And just last week, National Taiwan University (NTU) ranked U of T eighth in the world and first in Canada for scientific performance, based on research productivity, impact and excellence.  To read more about the ranking, click here.
"One learns more from trends and triangulation than from any one ranking or single year's results," said U of T President David Naylor. "To consistently perform so well in these rankings is due to the excellence of our faculty, staff, and students. And doing so in a challenging fiscal and policy climate is also a measure of the support we've received from alumni and friends in recent years." Prof. Naylor also congratulated the University of British Columbia, McGill University and McMaster University, all of which finished in the top 100 in the THE rankings of world universities. For more on the Times Higher Education ranking, click here.
This follows an impressive showing in this year's Royal Society of Canada honours. Three scholars won medals, one took home a research award and nine more have joined the ranks of the nation's premier scholarly society as fellows.  In addition, nine researchers were honoured with fellowship in the RSC, bringing to 351 U of T's total number of RSC inductees since 1980.
"It's unprecedented for U of T researchers to win four RSC medals and awards in a single year," said Professor Paul Young, U of T's Vice-President Research and Innovation. This fantastic showing—and the fact that these honours recognize a remarkable breadth of scholarship—is testimony to the enduring excellence and impact of our research community." For more on the Royal Society honours, click here.
U of T researchers were also recognized as fellows of the Canadian Academy of Health Sciences, one of Canada's most esteemed academic academies. The fellows are recognized for their leadership, creativity and commitment to advancing academic health science and are drawn from a wide range of health professions — recognizing work from basic science to population health.
"It is encouraging to see the accomplishments of so many members of our community recognized by the Canadian Academy of Health Sciences," said Professor Catharine Whiteside, Dean of the Faculty of Medicine and Vice-Provost, Relations with Healthcare Institutions. "Their leadership and dedication are deserving of this recognition and they are an inspiration to their fellow colleagues and students." For more on these awards, click here.