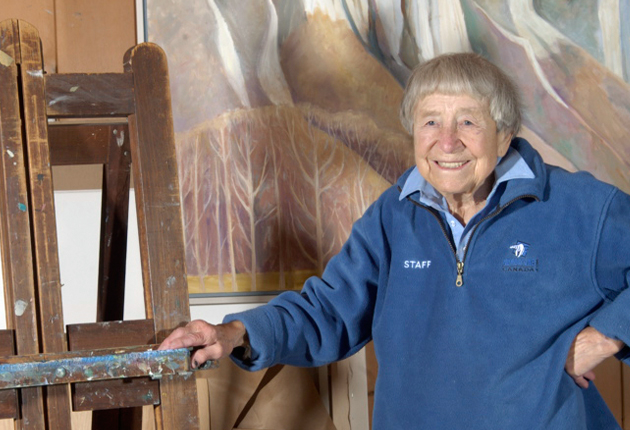 The legacy of Canadian visual artist Doris McCarthy, who earned a BA at age 78 and died in 2010 at the age of 100, will continue to thrive at U of T Scarborough.
Posted on April 22, 2013
McCarthy's estate has entrusted UTSC with more than 200 of her artworks, photographs, correspondence, journals and keepsakes. While UTSC is already home to a gallery named after McCarthy, this new collection will encourage the creation of a dedicated space to study about and learn from this Canadian artistic icon.
As an art teacher in the mid-1900s, Doris McCarthy traveled the world to photograph and sketch its many wonders for her students. As a landscape painter she painted every province and territory in Canada, and even studied with the members of the Group of Seven. So perhaps it is a quirk of Canadian art history that McCarthy acquired fame for her own canvases decades after her career began, and even after her retirement as a teacher at Central Technical School in Toronto in 1972.
"Landscape painting went out shortly after I started," McCarthy said in an interview six years before her death. "It was not what was 'done' in those days."
Happily, prejudices are not what they used to be. The merit of McCarthy's work is now widely recognized. Among the beneficiaries are UTSC and the Doris McCarthy Gallery which have accepted delivery of 203 McCarthy artworks, as well as her photographs, correspondence, journals and keepsakes.
The value of the collection has been appraised at almost $4 million. In her seventies, McCarthy returned to the classroom as a student and earned a B.A. at UTSC in 1989. She deeply valued her undergraduate experience, and made UTSC, posthumously, the undisputed centre of McCarthy scholarship.
But the value of the gift cannot be realized in the facility as it stands.
"With the addition of this gift, plans are underway to expand the gallery," says Ann MacDonald, Director and curator of the Doris McCarthy Gallery.  "In the future, dedicated exhibition space will enable the DMG to exhibit the collection on an ongoing basis so that students, scholars, and the general public may have access to McCarthy's artistic production as well as her personal possessions.
"UTSC's scholarly environment means that McCarthy's life can be researched, contextualized and presented in a manner that will create a fascinating legacy deserving of this beloved Canadian icon."
The Doris McCarthy Gallery is by no means devoted exclusively to the works of its namesake. There is a growing and diverse permanent collection composed of art works by celebrated Canadian artists. Room is made also for rotating, contemporary exhibitions.
"She was a true citizen of Scarborough," says Stephen Smart, executor of the McCarthy estate. "Doris approved and agreed with this gift. In fact, she participated in putting away some of the works at her home, anticipating that a significant gift would be made to one institution. We discussed it and agreed that the best place would be the Doris McCarthy Gallery."
The gallery is the only major exhibition space for contemporary art in the eastern Greater Toronto Area. Building a new, expanded gallery in an accessible location will not only enhance the appeal of the Scarborough campus, it will support UTSC's vision to be a cultural and intellectual hub in the eastern GTA.