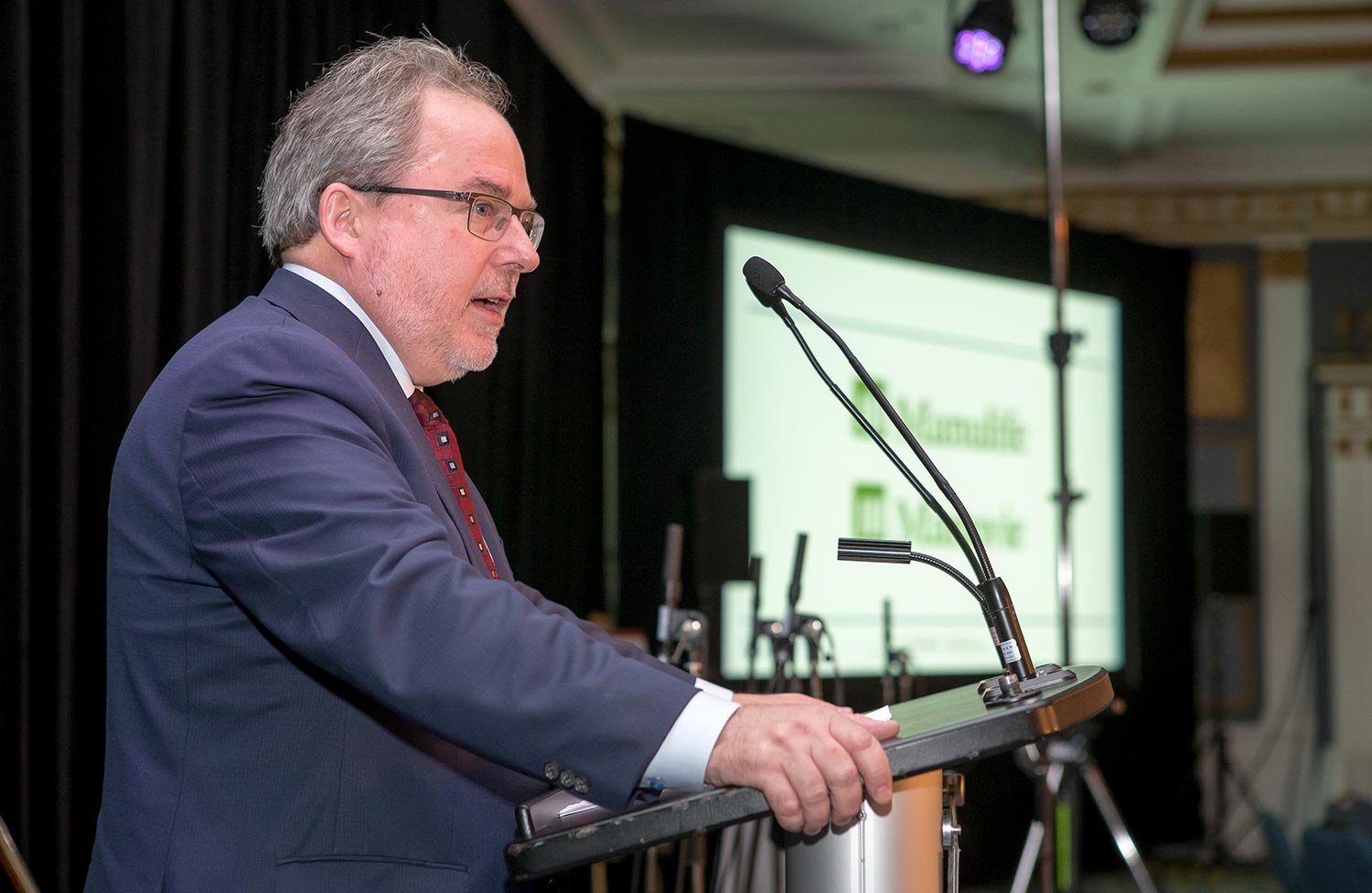 The Canadian Council for the Advancement of Education names Palmer as the recipient of its 2016 honour.
Posted on June 10, 2016
Shortly after joining the University of Toronto as its new vice-president of advancement, David Palmer was asked by an interviewer for his first impressions.
"What has struck me most is the universal commitment to leadership among faculty, staff, students and volunteers," he said. "Many are undisputed leaders in their field or, in the case of students, leaders-in-making."
Nine years on, Palmer's own brand of leadership has helped strengthen the University and position it for the future. These achievements have prompted the Canadian Council for the Advancement of Education (CCAE) to name Palmer as the recipient of its 2016 Outstanding Achievement Award. The award recognizes individuals who exemplify the highest ideals of the advancement profession.
Leading the successful Boundless campaign
"U of T benefits from the enormous goodwill of our community but this generosity requires leadership and inspiration," says U of T president Meric Gertler. "David provides that in spades. As head of advancement, his influence is visible everywhere."
Under Palmer's direction, advancement at U of T is enjoying unprecedented success. More than 200,000 alumni have participated in events in Canada and around the world since the start of the university's Boundless campaign with some 11,400 donating their talent, time and energy as volunteers. At the same time, with a historic $2-billion goal, Boundless has been tremendously successful, generating considerable momentum for the University's highest priorities, and continuing to attract the energy and support of our alumni and donors.
"I'm so honoured to be recognized by my peers but I share this achievement equally with the many hard-working, talented and generous people who care deeply about this University," says Palmer. "This wonderful group includes alumni, volunteers, institutional leaders, staff and of course, our many dedicated and selfless benefactors who are transforming this University."
A dedicated relationship builder of great integrity
Prominent, long-time U of T supporter Marcel Desautels, whose generosity is integral to the Rotman School of Management, has come to know Palmer personally and professionally over the past 10 years.
"David's a soft-spoken man of great integrity. He quickly gains your confidence and he believes in the cause," says Desautels. "Also, because of his warm and personal approach, he excels at establishing relationships."
The CCAE award recognizes achievements over many years, and even before coming to U of T, Palmer had amassed an impressive track record. He led fundraising efforts at the Royal Ontario Museum that saw creation of the iconic Michael Lee Chin Crystal and the overall revitalization of the museum. Earlier, he steered the campaign that established the prestigious Richard Ivey School of Business at Western University.
"David is incredibly dedicated to advancing higher education and culture in Canada," says Gertler. "His passion for the work is unshakable, and his career is a testament to the power of philanthropy to enable change. I'm delighted to congratulate David on receiving the 2016 Outstanding Achievement Award."
Mary Williams, vice-president of University Advancement of McMaster University, who won the CCAE award in 2015, says Palmer is an especially deserving winner because of his dedication to the institutions he serves and his leadership across the field of advancement.
"He is raising the bar in the Canadian philanthropic sector, and, by doing so, increasing the potential for every fundraiser in the country," she says. "One of the most frequent and direct ways he does that is by being a willing and generous mentor and advisor."