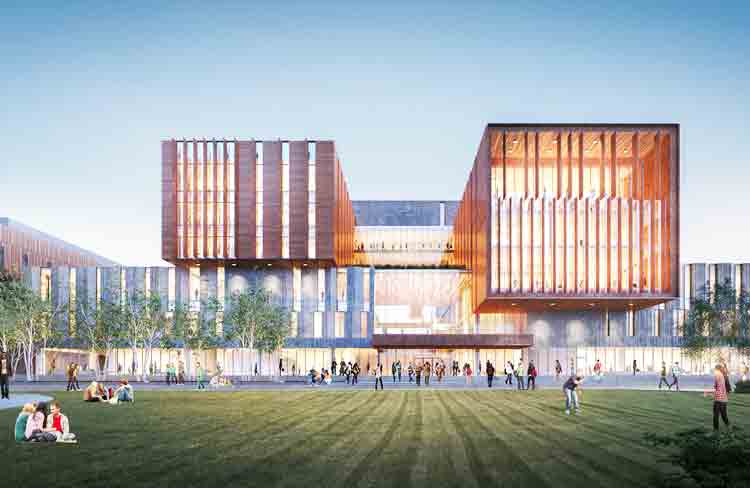 An extraordinary bequest from accountant William C. Buttimer is helping U of T's Mississauga campus complete a major expansion and supporting student awards in engineering and nursing.
Posted on October 6, 2016
William C. Buttimer, a private individual, has left $1,750,000 to U of T's Mississauga campus, along with substantial legacies for student awards. The UTM part of the bequest was directed to spending on capital projects, and the University is delighted to put the funds toward its flagship North II project – a new building that will complement the recently-opened Deerfield Hall and serve as a vibrant campus hub for teaching, student support and research in the humanities and social sciences.
"We're so pleased and excited to use this gift for a fundamental investment in this campus," says Amrita Daniere, VP Academic and Dean at U of T Mississauga. "The North II building will transform the centre of our campus. This is something that we've been wanting for many years, and we're so happy that we're able to now complete the project."
State-of-the-art classrooms for a growing campus
The original North building was UTM's first structure, and was intended to be temporary. "When you walked in there you felt like you were in a rerun from the 1970s," says Daniere. "But now we're going to have 31 new bright and light-filled classrooms, with the type of seating that facilitates conversation and interaction. Not only has our capacity for teaching has been addressed for the long term, but we can grow, up from our current 14,500 students, because 17,000 students can be happily accommodated in these state-of-the-art classrooms."
Demolition of the old structure began in March 2016, and the new 210,000-square-foot, six-storey building is on track for completion in the summer of 2018. Architect Andrew Frontini of Perkins+Will Toronto hopes to achieve LEED Gold status for the sustainable building, which will feature a glazed terracotta exterior to visually transition between adjoining buildings – the earth-toned Erindale Hall residence and the pewter-and-gold Instructional Centre.
High-quality instruction and research
As well as the classrooms, North II will include an event and gathering space, the dynamic Robert Gillespie Academic Skills Centre for student support, and offices for six departments: English and Drama, Philosophy, Historical Studies, Language Studies, Political Science, Sociology.
"There's going to be a dramatic difference in the quality of instruction and research that we can deliver to our students," says Daniere. "It will be wonderful for everyone."