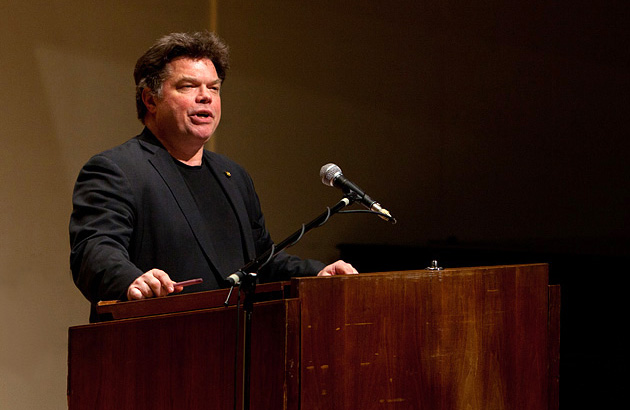 The Faculty of Music heralded an exciting new season of performances, lectures and master classes—and unveiled its campaign to extend the Faculty's interdisciplinary reach, heighten its international profile and build its infrastructure.
Posted on September 21, 2012
Call it opening night. Every September, Dean Don McLean of the Faculty of Music unveils a season schedule of more than 400 performances, lectures and master classes to a select group of faculty, alumni, donors and friends.
This time the look ahead extended beyond the 2012-13 academic year as McLean described the principal themes of the campaign for Music:  his "three i's" strategy to extend the interdisciplinary reach of the Faculty, heighten its international profile and make crucial infrastructure improvements to the Edward Johnson Building (EJB).
Boundless: The Campaign for the University of Toronto, which has raised more than $1.1 billion to date towards a University-wide goal of $2 billion, will provide vital support to the Faculty of Music's vision, the Dean noted.
Interdisciplinary initiatives have already expanded through the recently established Music and Health Research Collaboratory, which has its headquarters at the EJB. The Faculty of Medicine and its affiliated research hospitals will be important collaborators in the work of this new initiative.  Music Associate Dean Professsor Lee Bartel has been named acting director of the Collaboratory.
"Our ambitions comprise not only advances in traditional music and sound therapy," McLean said, "but pure research in neuroscience and psychology; in the social sciences, with stress on the role of music in social well-being; and fundamental inquiry into the nature of teaching, learning and performing."
Going hand in hand with interdisciplinary expansion will be increased recruitment of international faculty, graduate students and postdoctoral fellows.
"I am determined that the Faculty of Music will not be provincial in any sense of that word," McLean said. "We must internationalize our departments both to keep our programs vital and to be part of the global mission that is articulated by the Boundless campaign."
Undergirding all this progress will be renewal of infrastructure.
"This was a state-of-the-art facility when it opened," McLean said of the music building. "But that was 50 years ago."
Basic renovations are under way, he said, and there are now plans under consideration to renew the building's distinctive lobby and remake the 815-seat MacMillan Theatre into a 1,000-seat "contemporary training room that looks, feels and – most importantly – sounds like a great opera house."
The concept calls for three dramatic balcony fronts made of oak and embossed with oak-leaf designs as an expression of the Faculty's identity within U of T. Backstage and pit areas will be upgraded and the roof trusses raised.
The presentation on September 11 in Walter Hall featured a performance by the Cecilia String Quartet, U of T's new quartet in residence, and a rendition of Aaron Tsang's Boundless Fanfare. McLean introduced three new faculty members: countertenor and early music specialist Daniel Taylor, opera and vocal consultant soprano Wendy Nielsen and Gordon Foote who has moved from McGill University to join the U of T team in Jazz Studies.