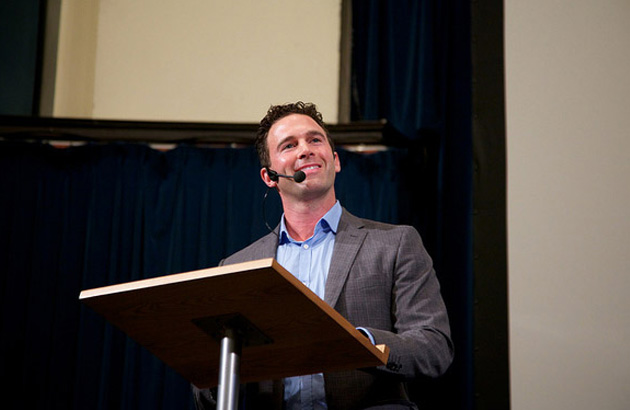 The Faculty of Applied Science and Engineering kicked off a $200-million campaign that will build on our reputation for excellence, and ensure our place among the world's leading institutions for engineering education, research and innovation.
Posted on September 18, 2012
U of T's Faculty of Applied Science & Engineering kicked off its $200-million campaign with an Afternoon of Engineering Innovation that showcased innovative, visionary and entrepreneurial ideas from students and faculty. The event, attended by more than 600 members of the Engineering community, featured lectures, industry panels with alumni, and student exhibits at Convocation Hall and the Bahen Centre.
Professor Cristina Amon, Dean, announced the success to date of the Faculty's campaign, which has already secured more than $80 million towards its goal—the largest-ever fundraising initiative for an engineering school in Canada. "U of T Engineering is Canada's best engineering faculty. Our goal is to build on our reputation for excellence, and establish ourselves into the very top ranks of the world's leading institutions for engineering education, research and innovation," Amon said. "This campaign will engage our global network of alumni and friends to build a pre-eminent Faculty that will nurture the U of T world-class engineer of tomorrow."
In her address, Dean Amon outlined the campaign's five areas of focus: developing global engineering leaders; nurturing engineering innovation & entrepreneurship; revolutionizing biomedical engineering and human health; advancing information communications technology; and reshaping the future of energy, the environment and sustainability.
Building the Centre for Engineering Innovation and Entrepreneurship is a core priority. Located on St. George Street, beside Simcoe Hall and Convocation Hall, the centre will be a landmark building at the University of Toronto. The nerve centre for the Faculty's collaborative learning and interdisciplinary research, it will feature dynamic, flexible environments that foster collaboration, encourage active learning and accelerate innovation.  George Myhal, Chair of the Engineering Campaign Executive Committee, has made a $5-million gift to the new Centre.  He closed the plenary session by sharing an inspiring personal perspective on why he is such a strong supporter of the Faculty and the University.
Bill and Kathleen Troost were also recognized for their $2-million gift towards space for the Institute for Leadership Education in Engineering (ILead). "Bill and Kathleen Troost's gift will provide a home for ILead and allow leadership education at U of T Engineering to take a significant step forward," Dean Amon said. She also acknowledged Peter Allen for his $1-million gift to the new building, remarking that he "believes in the vision for the Centre for Engineering Innovation & Entrepreneurship and his gift is an inspiration to faculty, students and future donors."
Dean Amon also lauded Paul Cadario—a past President of the University of Toronto Alumni Association, who sits on the Advisory Boards for the Munk School of Global Affairs, and the School of Public Policy and Governance, as well as the Dean's Advisory Board for Applied Science and Engineering.  Cadario made a generous $1-million gift to the Centre for Global Engineering, and Amon noted that his gift is "a reflection of his life's work helping to build prosperous, sustainable and peaceful societies." Also at the event, Dean Amon acknowledged Walter Curlook who provided a $1-million gift toward lab space, remarking that his gift will "build vital state-of-the-art lab space benefiting our students and faculty."
"Today's campaign launch was a window on the kind of limitless innovation and creativity that takes place every day at U of T Engineering," said David Palmer,
U of T's Vice-President of Advancement.
The afternoon series of events showcased the Faculty's strong industry links, its global excellence, innovation, and the tremendous potential of its students.  Overall it was a very effective way both to launch a campaign, and to remind alumni about the impact of their Faculty.   By showcasing the work of today's students and the innovative research of faculty members, it invited alumni to re-engage with and celebrate their alma mater, and clearly whetted their appetite for more.