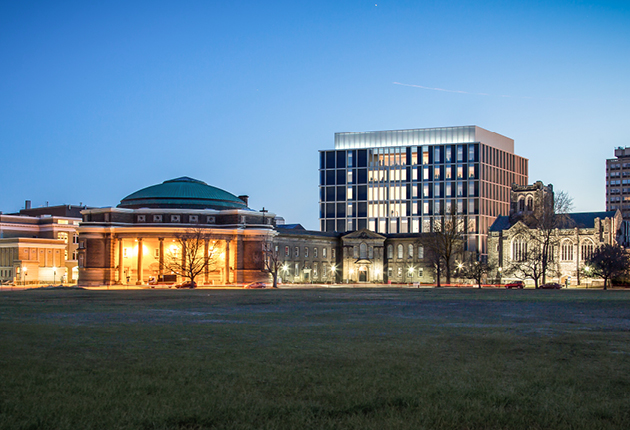 Gerald Heffernan (BASc 1943) has expanded his legacy of support for entrepreneurship at U of T Engineering with a $5 million gift to fund new fellowships and name The Entrepreneurship Hatchery.
Posted on July 11, 2014
Half of Heffernan's gift will fund the Heffernan Commercialization Fellowships, and half will provide space for The Entrepreneurship Hatchery at its new home within the Centre for Engineering Innovation & Entrepreneurship (CEIE), now named the Heffernan Hatchery in his honour.
"On behalf of the Faculty of Applied Science & Engineering, I would like to extend my deep gratitude to Mr. Heffernan for his continued generous support of U of T Engineering," said Dean Cristina Amon. "His latest gift will further strengthen the spirit of entrepreneurship which he has helped to instill in our students over many years." Since 1997, Heffernan/Co-Steel Innovation Post-Graduate Fellowships have enabled graduate students to transfer their research into successful businesses.
Gerald and Geraldine Heffernan are so supportive of entrepreneurship at Engineering that on the occasion of their recent seventieth wedding anniversary, they encouraged others to pledge contributions to the Hatchery in lieu of gifts. Their request has already resulted in significant additional support for U of T Engineering's entrepreneurship initiatives.
"The Faculty has been overwhelmed with outstanding submissions for the Fellowships and, until now, has been equipped to select a very few," says Electrical and Computer Engineering Professor and Vice-Dean of Research Edward (Ted) Sargent. "Now even more outstanding Canadian engineers, applied scientists and engineering students will be able to transform their innovations into commercial products with economic and societal impact."
Past recipients of the Fellowships have included Anand Agarawala (MSc 2006), whose rapid-growth startup company BumpTop was successfully sold to Google for an estimated $28 million; and Carlos de Oliveira (MASc 2006), whose research on earthquake-resistant structural casting led to the founding of Cast Connex Corp. The most recent recipients include:
Oleg Chebotarev (BASc 2010, MASc 2012), who is developing a microfluidic platform that mimics blood vessels for improved drug screening;
Garry Liu (MASc 2006, PhD 2013) from Innovere Medical, who is creating wireless headsets for MRI machines;
Martin Labreque (BASc 2003, MASc 2006, PhD 2011), who is developing a configurable sensor glove which provides computer input without the use of a keyboard or mouse;
Adam McKinty (PhD 2013), who is developing a novel chemical catalyst with applications in areas like pharmaceuticals, petroleum and skin and hair care products; and
Andrew Paton (BASc 2005, PhD 2003), who is developing high-efficiency light-emitting diodes and cost-effective solar cells.
"There's a lot of money out there for entrepreneurs with prototypes, but there's a gap for people who are still getting to the prototyping stage," says Paton. "That's what makes the Heffernan Commercialization Fellowship so great – it fills that gap."
Heffernan's gift to the Hatchery will help the Faculty expand its hands-on, immersive entrepreneurship training right from the undergraduate level. He has seen first-hand the challenges facing students and the mentorship the Hatchery provides in response, as well as the products and services promising students have developed within the program. The Hatchery's new space within the CEIE will give students access to group workspace and fabrication facilities that encourage collaboration and creativity as students put new ideas to the test.