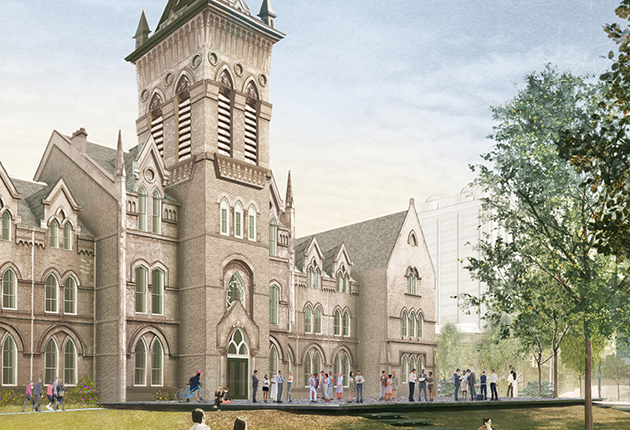 Like her late husband, urban visionary Paul Oberman, Eve Lewis is committed to the enhancement and preservation of architectural landmarks that reflect the heritage of the local community.
Posted on July 11, 2014
This commitment inspired her and business partner, Ron Kimel, to make a $1 million gift to name the bridging entrance—called the belvedere—to be built as part of the transformation of the John H. Daniels Faculty of Architecture, Landscape, and Design at One Spadina Crescent.
"Paul was very much a creative city builder, who saw the potential and value in the concept of restoring and repurposing One Spadina," says Lewis. "He and (architecture dean) Richard Sommer had numerous conversations on how that transformation could take place." Oberman, the former CEO of Woodcliffe Landmark Properties, was known throughout the architecture community for his innovative approach to renovating and preserving heritage properties. Summerhill train station in Toronto, which was transformed into an award-winning LCBO, King James Place, and the Gooderham Flat Iron Building are three of his most recognized achievements. Earlier this spring, Lewis, who took over Oberman's position at Woodcliffe, worked along with her own real estate firms MarketVision and Urbanation, to realize her late husband's dream to transform the entire block of Market Street across from Toronto's St. Lawrence Market into a pedestrian-friendly environment, animated by restaurant patios.
After his 2011 death in a plane crash, friends and colleagues in the architecture, design and heritage community came together to create a graduate scholarship in Oberman's name. When plans for One Spadina began to take shape, Lewis knew she wanted to give back to this project that so perfectly reflected her late husband's unique vision. She approached Kimel, also a close collaborator of Oberman's, and together they decided to fund the creation of a belvedere at One Spadina—a large, raised terrace facing the lake which honours and levers the building's original purpose with a grand front prospect facing Lake Ontario. The belvedere will be a gathering and event space for the university community and visiting public that will also provide a highly accessible entry point to the original historic frontage from College and Spadina and the streetcar.
"Paul believed that to adequately restore heritage properties, it was vital to adaptively restore these buildings with modern elements," says Lewis. "We chose to fund the belvedere precisely because it will signal the coming together of the old and the new, which is a perfect tribute to Paul."
Last year, the Daniels Faculty launched a $50 million fundraising campaign as part of the University's Boundless campaign in support of the capital renewal of One Spadina, as well as student support. To date, more than $32 million has been raised.