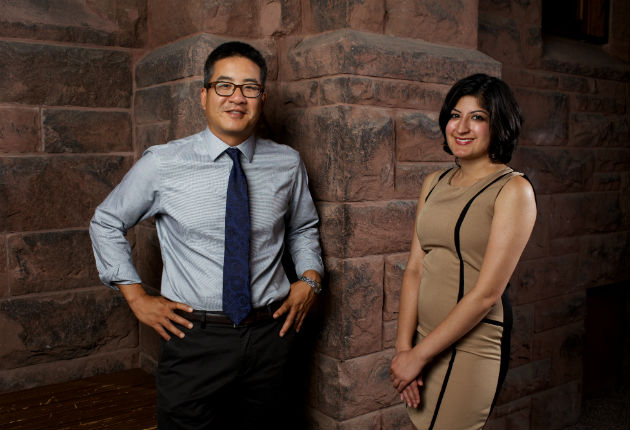 Thanks to the generosity of Roz and Ralph Halbert, longtime U of T supporters who have provided critical funding to build academic bridges between institutions and countries, U of T has a new innovation professorship: The Roz and Ralph Halbert Professor of Innovation at the Munk School of Global Affairs.
Posted on May 31, 2013
Wong has spent more than a decade researching and teaching innovation policy and global health. He is the Canada Research Chair in Democratization, Health and Development. He has written extensively on biotechnology, political economy and social policy in East Asia, including the books Betting on Biotech: Innovation and the Limits of Asia's Development State and Healthy Democracies: Welfare Politics In Taiwan and South Korea.
Ralph Halbert says, "When I reflect on our support of higher education, one recurrent theme has been building academic bridges between institutions and countries. This is also a part of the Innovation Professorship."
"We know that countries that lead in innovation become world leaders in every sphere and sector of study from business to the sciences," Dr. Halbert continues. "Ultimately, innovation is about creating. It is also about adapting to change to preserve our enduring ideals. It is said that creativity is thinking up new things; innovation is doing new things. With a foundation of innovation at U of T, today's generation will increase Canada's capacity to be competitive, and realize advances for society across the spectrum."
"This professorship offers a tremendous opportunity to shape an agenda," says Wong. This agenda is focused around three core values that are essential to innovation: collaboration, doing good and transformation.
"Innovation cannot happen in isolation," he adds. "It requires people working together from all over the world toward a common goal, a common good with real and lasting impact."
If there's one area that Wong hopes to have a real and lasting impact on, it's poverty. Not living-paycheque-to-paycheque poverty or even collecting-welfare poverty, but the poorest of the poor in countries around the world, the 1.3 billion people who live on less than $1.25 a day.
"How can we as a society, as governments, as corporations and organizations, and as individuals, how can we better service the very, very poor?" he says. "We need to look beyond the conventional welfare-state model, which doesn't work to address the needs of the poorest of the poor. For example, how do you deliver medical vaccinations to people who live in slums? In Addis Ababa, in Ethiopia, 99 per cent of the urban population lives in slums; they are itinerant, without addresses — how do you provide them with healthcare, with food, with water? And that's just one example in one city."
Wong is hard at work recruiting the young people he says are the key to true innovation. He's a leader at the Global Ideas Institute, a joint venture between University of Toronto Schools and the Asian Institute to provide intensive research and mentoring opportunities for top students in select Toronto-area high schools with a focus on studying real-world problems. And his summer abroad course in Shanghai and Beijing provides a particularly innovative experiential learning format designed to bring together U of T and Fudan University students in an environment that fosters cross-cultural dialogue on global politics.
A group of his students were so inspired by his classes that immediately after graduating they launched a social innovation research group (SIRG) in Taiwan that is becoming the go-to think tank on social entrepreneurship in the region. "SIRG Taiwan is a start," he says. "I'm looking forward to seeing SIRG Shanghai, Mumbai, Jerusalem, São Paulo, Cape Town. All we need are the people with the audacity to make it happen. That would be true innovation."