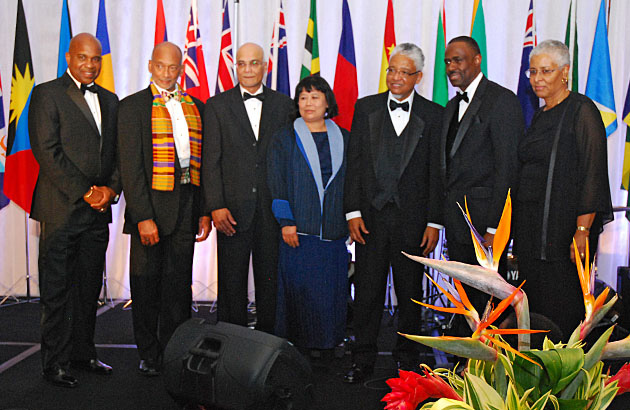 The University of Toronto was honoured by The University of the West Indies (UWI) at its fourth annual Toronto Benefit Gala on May 11.
Posted on June 12, 2013
On a night to honour leaders of Caribbean heritage who have made remarkable contributions in their respective fields, U of T and three distinguished members of its community were signalled out for their contributions and ties to the Caribbean. The gala raises funds to support outstanding academic achievers in the Caribbean to complete their studies and realize their potential as leaders.
Each year, the gala recognizes the outstanding and tireless work of community leaders and institutions. U of T was the recipient of the Chancellor's Award for the excellent services it has provided to generations of students, including Caribbean nationals and partnerships with UWI over the years.
"The University of Toronto is very proud to be UWI's partner," said U of T's Vice-President of University Relations, Judith Wolfson, who accepted the honour on the University's behalf. "We are thoroughly delighted to receive this special honour and pleased to be part of tonight's wonderful event. This award celebrates not only our past collaborations but also our future.
Student exchanges between the two universities have been operational since 1994 and have brought dozens of U of T students to Barbados, Jamaica and Trinidad & Tobago and UWI students to U of T's three campuses. In 1995, U of T established the Caribbean Studies program at New College. Now the only program in the country exclusively dedicated to the study of the Caribbean, the program offers courses in Caribbean history, literature and thought which deal with a wide range of issues including gender, religion, politics, culture, ethnicity, race, development, language, colonialism and regional common markets. University Professor Emeritus Ted Chamberlin, an English and Comparative Literature scholar, established some of U of T's earliest links with the West Indies, visiting the region and studying its poetry and literature. He maintains strong ties with UWI as editorial advisor for its Journal of West Indian Literature. In 2002, Prof. Chamberlin was awarded an honorary doctorate from UWI.
The sold-out fundraiser and a similar event in New York held over the last 16 years are the major sources of funding for scholarships. "In a sense, the Caribbean is an incubator for amazing minds and brains," said Dr. G. Raymond Chang (BASc '70), Patron of the Gala. "It's humbling and joyful to know that a spark lit in Toronto four years ago is helping to ignite and unleash brainpower in the Caribbean."
Three members of the U of T community were also honoured with Vice-Chancellor's Awards at the event:
Dr. Upton Allen, a Professor of Paediatrics at U of T, is a native of Jamaica who received his medical degree from UWI before studying paediatrics at the Hospital for Sick Children (SickKids). He is co-chair of the Caribbean-SickKids Paediatric Cancer and Blood Disorders Project. A collaborative initiative between SickKids and six Caribbean countries (Jamaica, Barbados, Trinidad & Tobago, The Bahamas, St. Vincent and the Grenadines, and St. Lucia), the project is aimed at improving outcomes from childhood cancers in these countries.
Mary Anne Chambers (BA 1988, LLD 2010), former vice-chair of U of T's Governing Council was also honoured. A corporate director, retired Senior Vice President at Scotiabank, and former Ontario cabinet minister, Ms Chambers was recognized for her decades of contributions while in government and public service, including helping to author U of T's policy that no student would be prevented from studying at the University for inadequate financial resources. She has funded scholarships for more than 30 first year students in Canadian Universities and Colleges, and also sponsors an Academic Mentorship Program for middle and high school students in partnership with U of T Scarborough.
Prof. Brigitte Shim, a principal of Shim-Sutcliffe Architects in Toronto, and a faculty member at U of T's John H. Daniels Faculty of Architecture, Landscape, and Design was also recognized. Shim is currently serving as a board member for Build Toronto and a member of Waterfront Toronto's Design Review Committee and the University of Toronto's Design Review Committee. She has served on numerous international, national and local design juries as an advocate for design excellence.
Born in Jamaica and raised in Toronto, Shim is a member of a large Chinese-Jamaican family which is also part of a vital and active Caribbean community. In January 2013, Brigitte Shim and her partner Howard Sutcliffe were both simultaneously awarded the Queen Elizabeth II Diamond Jubilee Medal and the Order of Canada "for their contributions as architects designing sophisticated structures that represent the best of Canadian design to the world."