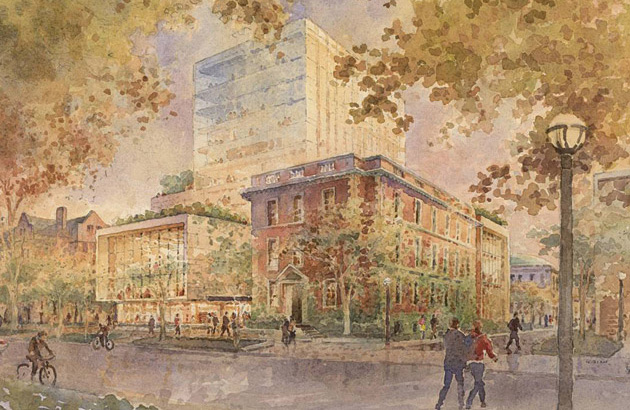 The University of Toronto has chosen Toronto-based Montgomery Sisam Architects and U.K.-based Feilden Clegg Bradley Studios as the architects for the new Centre for Engineering Innovation and Entrepreneurship.
Posted on May 1, 2013
The CEIE is the central component of U of T Engineering's $200 million fundraising effort, part of Boundless: the Campaign for the University of Toronto. Through its interdisciplinary and collaborative intent, the Centre encapsulates Engineering's campaign goals and future, including developing global engineering leaders, nurturing engineering innovation and entrepreneurship, transforming biomedical engineering and human health, advancing information communications technology and reshaping the future of energy, the environment and sustainability.
The building will serve as the hub of U of T Engineering's collaborative learning and interdisciplinary research, housing interactive spaces for learning and design, as well as a number of multidisciplinary research centres and institutes. The building will also serve as a home for the Faculty's recently launched Entrepreneurship Hatchery, which encourages and supports engineering students interested in launching entrepreneurial ventures.  Located on St. George Street, adjacent to iconic Convocation Hall, the CEIE is targeted to open in 2016.
CEIE seeks to raise $55 million from donors to build the CEIE. To date, the Faculty has received a number of outstanding early commitments from its community of donors towards this goal; donors who believe in the vision for the CEIE and its role as a catalyst for engineering education at U of T to take a significant step forward. These leading supporters include: George Myhal (BEng 1978), Chair of Engineering's Campaign Executive Committee, whose $5 million gift is among the first in support of the building;  Bill (BASc 1967) and Kathleen Troost, whose $2 million gift will provide space for the Institute for Leadership Education in Engineering (ILead);  Peter (BASc 1962) and Jocelyn Allen, who made a $1-million contribution to the project; and Paul Cadario (BASc 1973), whose $1-million contribution to the Centre for Global Engineering (CGEN) includes support for CGEN in CEIE.
"Each of the early gifts to the campaign deserves our thanks and serve as examples of the kind of commitment and support we need to realize our goal," said Cristina Amon, Dean of the Faculty of Applied Science & Engineering. "With the selection of these architects, we will be able to move another step forward to build this space that will accelerate innovation, foster collaborative learning, instill in our students the entrepreneurial spirit and to increase our contributions to the world."
The new building "will encourage informal and spontaneous interaction; for it is often through chance encounters that innovation occurs and entrepreneurial thinking flourishes," said Robert Davies of Montgomery Sisam Architects. "Such encounters most often happen in the 'spaces in between', the halls, stairways, lobbies and passages. Set teaching spaces should be standardized and flexible to allow for change in the future whereas the shared public spaces; lounges, club space should be unique, dynamic and memorable environments."
Dean Amon said she is looking forward to working with Montgomery Sisam Architects and Feilden Clegg Bradley Studios on the project. "These two firms, with their experience in designing innovative research, learning and teaching spaces, have shown they have the vision to create a signature building that will foster the boundless energy and creativity needed for the future of engineering in Canada," Amon said.
Founded in 1978, Montgomery Sisam Architects (MSA) is a mid-sized architectural firm based in Toronto. MSA has designed such buildings as the Island Yacht Club and the Holland Bloorview Kids Rehabilitation Centre and has won more than 65 provincial, national and international awards, including the 2011 Architectural Firm Award from the Royal Architectural Institute of Canada. The firm has extensive ties with the University of Toronto. Many of its architects – including Davies – are U of T graduates. MSA has worked on other U of T projects, including the revitalization of the St. George Campus Exam Centre, and the Arts and Administration building and Joan Foley Hall at U of T's Scarborough campus.
Feilden Clegg Bradley Studios, also founded in 1978, is based in London, England, and has an international reputation for design quality, for pioneering environmental expertise and a radical architectural approach. It has designed more than 60 educational buildings, in England and around the world.
Professor Emeritus Ron Venter, who chairs the project planning committee for the Centre, said the joint proposal from the two firms was very impressive. "We're excited to be working with a local company that understands our vision and an international firm with a global reputation for sustainable, groundbreaking educational buildings."
He noted that MSA has developed several projects in similar urban settings and has particular strengths in addressing community concerns. "The architects and the university will work closely with the university community, our neighbours and the City of Toronto as the Centre is designed and built. The end result will be a signature building that we can all be proud of."