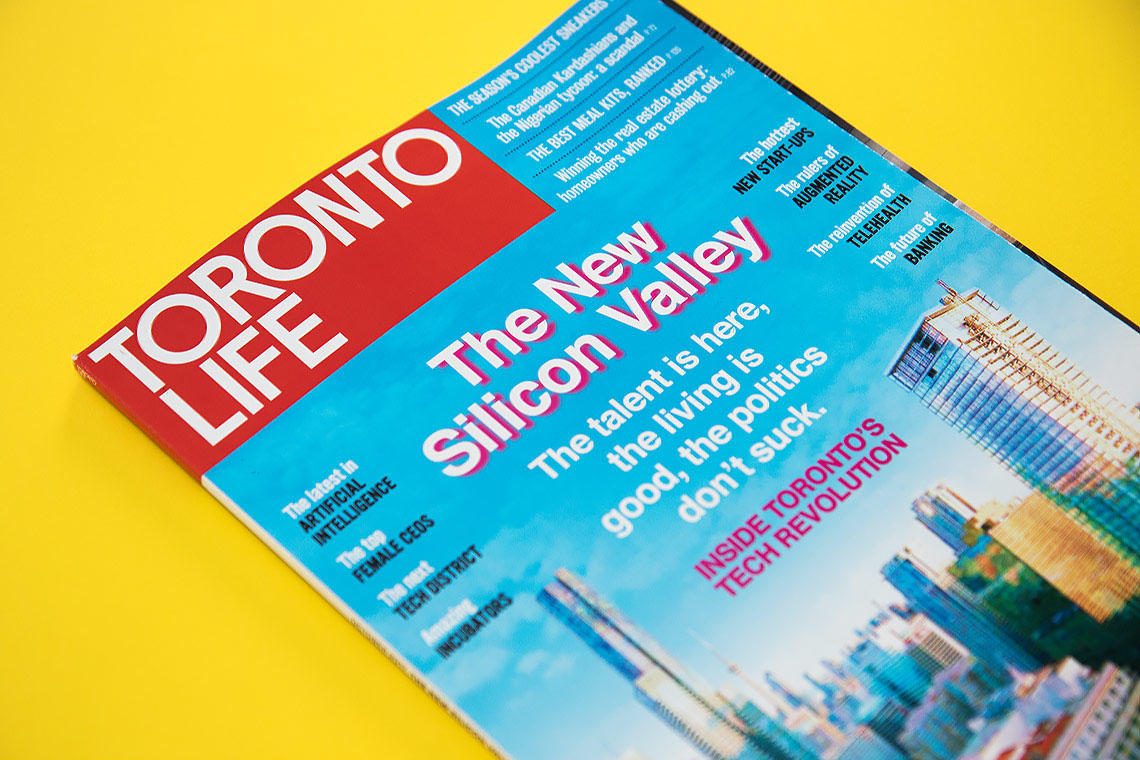 The October 2017 issue of Toronto Life magazine dubbed Canada's largest city "the new Silicon Valley" – and the University of Toronto is playing a key role.
Posted on September 22, 2017
In its October issue, Toronto Life magazine highlighted several U of T researchers who have helped fuel Toronto's tech revolution. They include:
● U of T Associate Professor Raquel Urtasun, an expert in computer vision and machine learning who heads up Uber's new self-driving vehicle lab in Toronto.
● U of T University Professor Emeritus Geoffrey Hinton, an engineering fellow at Google and the chief scientific adviser at the Vector Institute who is often dubbed the "godfather" of deep learning.
● Jimoh Ovbiagele, one of three former U of T students who launched artificial intelligence-powered legal research firm ROSS Intelligence, which recently opened a new R&D lab in Toronto.
● The Creative Destruction Lab at U of T's Rotman School of Management, cited for its novel quantum machine learning program, which aims to supercharge AI applications by marrying them with the nascent field of quantum computing.
U of T's significant innovation and entrepreneurship infrastructure
"We're thrilled to see a major Canadian publication recognize the significant innovation and entrepreneurship infrastructure we've helped build in Toronto and at U of T, over a period of many years," said Derek Newton, U of T's assistant vice-president of innovation, partnerships and entrepreneurship.
"It's also gratifying to see how our researchers' work – in fields that range from artificial intelligence to regenerative medicine – is attracting some of the world's biggest companies to Toronto, while also laying the groundwork for the next generation of Canadian ones."
Toronto Life's cover comes the same week that U of T, RBC and two partner universities – McMaster and Western – launched a new co-working space for startups called ONRamp in the heart of Toronto's Discovery District. The 15,000-square-foot facility spans three floors and consists of a mix of flexible shared workspaces, meeting rooms, boardrooms and event spaces.
It also comes as U of T announced a partnership with Fujitsu to launch a new R&D lab in Toronto that's focused on quantum-inspired computing.
Toronto is becoming a first choice for tech entrepreneurs
The magazine mentions several other U of T entrepreneurs and their startups: U of T alumna Chakameh Shafii's startup TranQool offers video counselling from licensed therapists; Huda Idrees's startup Dot Health seeks to make digital health records available to clients.
Meantime, Jorge Silva, who did his PhD at U of T, is singled out for his work developing a portable device called Tecla-E that helps people with disabilities control smart devices. U of T Associate Professor Parham Aarabi, of the department of electrical and computer engineering, also gets a mention for ModiFace, which allows customers to apply makeup to real-time images of their faces.
Having world-class universities in the core of the city is a critical factor
Toronto Life recently partnered with the organizers of a three-day technology festival called Elevate Toronto. The event sought to showcase Canada's innovation prowess in fields ranging from AI and fintech to virtual reality and health care, and featured more than a dozen U of T entrepreneurs and experts.
One of the conference's recurring themes was identifying the city's unique advantages when it comes to innovation and figuring out ways to further capitalize on it.
"I really believe that having world-class universities in the core of the city is a critical factor," Kristjan Sigurdson, a PhD candidate at Rotman and an associate director at the Creative Destruction Lab, told one of the event's panel discussions.
Another panelist – Jordan Jacobs, who co-founded Layer6 with U of T alumnus Tomi Poutanen – said he's witnessed a noticeable shift when it comes to recruiting overseas employees to work at the company, which uses AI to improve recommendation engines.
"It's the first time in my lifetime," he said, "where Canada is a first choice."
By Chris Sorensen