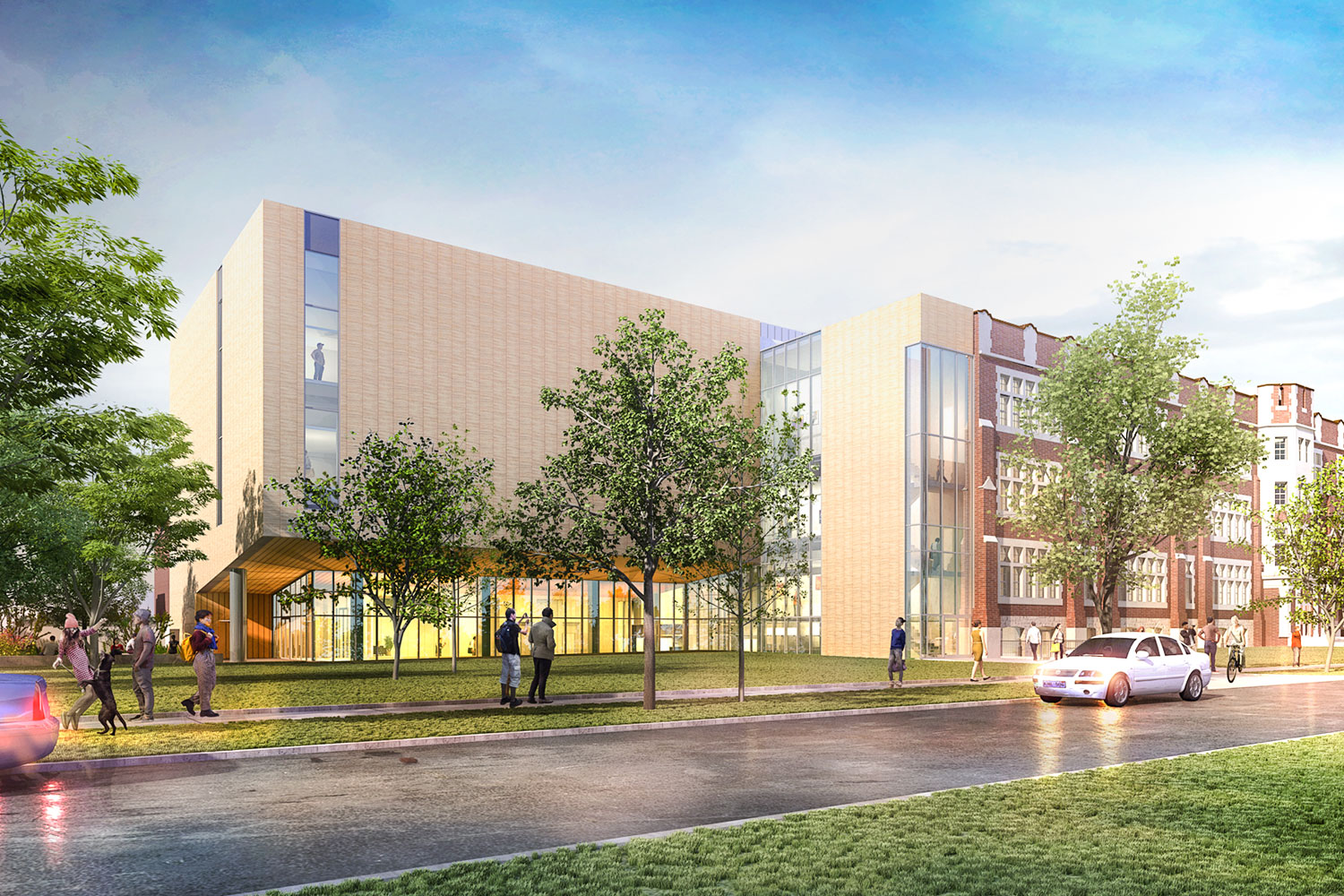 University of Toronto Schools' Building the Future nears its $60 million goal to revitalize its Bloor Street location, in part with the support of friends and alumni at the University of Toronto.
Posted on April 5, 2018
In December 2015, University of Toronto Schools (UTS) and the University of Toronto both ratified a 50-year affiliation agreement, extending a historic partnership between one of Canada's most prestigious high schools and its leading university.
Now, two years on, both institutions are seeing the fruits of their renewed agreement with the early success of UTS' $60 million capital campaign, aided in part by the support of U of T alumni and friends.
Launched in September 2017, UTS' Building the Future campaign is raising funds for the redevelopment of the school's site at 371 Bloor Street West, a provision of the 2015 affiliation agreement. To date, Building the Future has already raised $46.8 million or 78 per cent of the total, a reflection of the commitment of UTS friends and alumni—which include many prominent U of T graduates and friends—to furthering the school's important educational legacy.
"Since 1910, UTS has consistently offered a remarkable learning environment, which emphasizes intellectual development, creative thinking, and rewarding co-curricular opportunities," said University of Toronto President Meric Gertler. "The redeveloped UTS site will help continue this important legacy, and the positive response to the campaign is a testament to the excellent leadership and dedication of the staff, alumni, students and families."
The new building will feature a gym, auditorium, labs, a theatre and a library behind the historic facade
The project, which is set to break ground this fall, will revitalize the UTS site to serve the academic and co-curricular needs of students, adding 16 new and renewed classrooms, a double gym, a 700-seat auditorium, cutting-edge science labs and arts rooms, a black box theatre, a creativity centre, a multimedia lab and a new library, all with a focus on supporting innovative teaching and learning. The new building will also feature an indoor sky-lit atrium with centrally located stairs and lunch commons and an outdoor pedestrian plaza. Meanwhile, UTS will retain its signature, century-old façade. UTS alumnus Donald Schmitt, principal of Diamond Schmitt Architects, is designing the project.
The campaign's early momentum is in part a testament to the strong ties between UTS and U of T. As part of the 2015 affiliation agreement, campaign donors can support Building the Future through Boundless: the Campaign for the University of Toronto, an attractive option for those with connections to both the high school and university.
Friends of both schools have pledged leading support
Several of the campaign 'Founders'—donors who have given more than $1 million to the building campaign—are heavily involved with UTS and U of T. Jim Fleck, a UTS graduate and chair of the UTS board and project steering committee, is professor emeritus at the Rotman School of Management and teaches a course in the MBA Programs, and is a strong supporter of the campaign. Hal Jackman, a UTS and U of T alumnus, is a major donor to both institutions and is an honorary chair of the Building the Future campaign cabinet, and has pledged to the campaign through U of T.
UTS' alumni include 55 recipients of the Order of Canada, 20 Rhodes Scholars, 15 Olympians and two Nobel Laureates
Other prominent supporters include Peter Godsoe, an early and generous donor to the UTS campaign through the University of Toronto and an honorary campaign cabinet member, and Donald Ainslie, principal of University College and a renowned philosophy professor who has been active on the UTS Alumni Association and is also making his campaign gift through U of T.
"UTS' illustrious history and our present and future are closely connected with the University of Toronto," says UTS principal Rosemary Evans. "We strive to contribute to the University's mission through our various partnerships with U of T professors and departments, and by engaging in co-designed research and joint efforts to support innovation in teaching and learning. The Building the Future campaign will provide a solid foundation for the development and expansion of our partnerships."
By any measure, University of Toronto Schools is one of the most highly regarded high schools in the country. Founded in 1910, UTS' alumni include 55 recipients of the Order of Canada, 20 Rhodes Scholars, 15 Olympians and two Nobel Laureates. Today, beyond sharing a name and a location on campus, UTS has several programming partnerships with U of T, including with the Munk School, OISE, Physiology, Rotman Commerce, and Post Graduate Medical Education. The renewed 50-year affiliation agreement will present many more opportunities for fruitful collaboration in the years ahead.
Make a difference now
Give to University of Toronto Schools
Donate Now