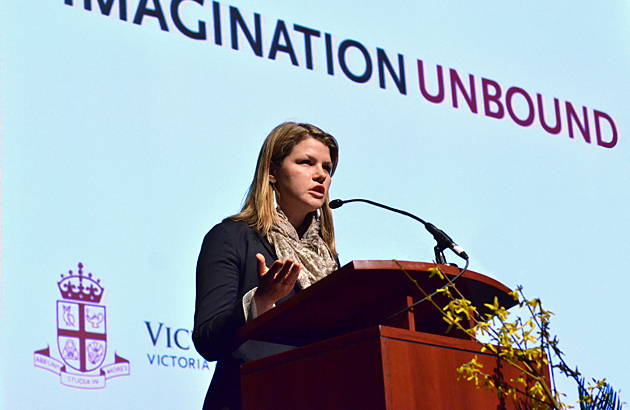 Victoria University President Paul Gooch helped launch Vic's "Imagination Unbound" fundraising campaign during a ceremony at Isabel Bader Theatre.
Posted on April 4, 2012
Northrop Frye, a Victoria University alumnus, once said "the fundamental job of the imagination in ordinary life is to produce, out of a society we have to live in, a vision of society we want to live in."
Vic put Frye's words into action Tuesday night, launching its "Imagination Unbound" campaign – a $60 million fundraising effort – at a ceremony at the Isabel Bader Theatre. The event attracted alumni, students, faculty, staff and friends in the community, led by Victoria University President Paul Gooch, Vic Chancellor Wendy Cecil and U of T Chancellor David Peterson.
The Vic campaign is part of the U of T's $2-billion Boundless campaign, announced last November by U of T President David Naylor.
Gooch, speaking directly to the students in the audience, said "it's all about your education. It's our raison d'être." When the campaign is concluded it will confirm "beyond dispute" that a Vic education is the best in the country.
The evening began with a rousing opening fanfare, composed by Aaron Tsang and conducted by Dr. Jeffrey Reynolds, both of the U of T's Faculty of Music. Vic Chancellor Cecil also introduced a video of selected alumni, faculty and students who explained why Victoria University has been – and always will be – a major part of their lives.
President Gooch has crafted a bold plan for the two colleges that make up Victoria University. At Victoria College this plan will transform undergraduate education in Canada and see Vic not only reaffirm its founding liberal arts missions but enhance the student experience beyond the classroom.  Victoria College's outstanding Vic One program, Gooch noted, has received applications from would-be students from 23 countries.  At Emmanuel College, Victoria University's theological college, this transformation includes expansion of Master of Pastoral Studies to include the Muslim Studies Program, the first of its kind in Canada.
The President said "thanks to you, our alumni and friends, we are 70 per cent of the way" towards the goal of $60 million – or about $43.5 million.  That includes a lead gift of $4 million from Blake Goldring Vic 8T1 and Judy Goldring Vic 8T7 for the new Goldring Student Centre, a much-needed hub for student activity on campus. Ground breaking for the centre occurred last May. Vic students voted to provide $7 million for the centre through a $200 annual per student fee.
To date, nine donors have each given more than $1 million to the Vic campaign.
Blake Goldring told the audience he was "doubly proud" to be a part of the campaign because attending Vic is about both an education and forming relationships.  With 80 per cent of Vic students commuting to the University, the Goldring Student Centre, slated to open in 10 months, will be "an oasis, a home away from home" where students can exchange ideas and socialize.
The funds raised through the campaign will be translated into remarkable learning experiences with the best instructors and into celebrating student achievement through programs that inspire learning outside the classroom and around the world. And it will remove financial barriers to success with scholarships, bursaries and awards.
Kate Bruce-Lockhart, U of T's 2012 Moss Scholar, said Vic has given her a "myriad of opportunities to grow in both an academic and personal capacity." A Vic education, she said, means caring not just about GPAs "but the world around us."
Victoria University last year celebrated its 175th anniversary and has earned a distinguished reputation for excellence and creativity in higher education. It has more than 3,500 students and faculty across two colleges – Victoria College and Emmanuel College. Victoria College is a vital part of U of T's Faculty of Arts and Science and includes the renowned Centre for Reformation and Renaissance Studies and the Northrop Frye Centre.
At Emmanuel College, Victoria University's theological college, about 175 students engage in a wide variety of theological and religious inquiries, in both Christian and Muslim studies, preparing for careers in ministry, chaplaincies, music, social service agencies and undergraduate and graduate teaching.
Chancellor Cecil said "a consistent thread at Vic has been community, from Frye to the present day." And though the campaign will end, "nothing stops with us." The sense of community will continue through the generations at Vic.
The Imagination Unbound campaign is led by an outstanding team of volunteers including honorary co-chairs Blake Goldring, the Honourable Hal Jackman and Norman Jewison.  The campaign executive includes President Gooch, Chancellor Cecil, Paul Huyer, Chair  of the Board of Regents, David Silcox, Chair of the Alumni Affairs and University Advancement Community and Deborah Scott, Executive Director of Advancement.
The President's Advisers for the campaign are Jane Brushey-Martin, Lawrence Ho, Marnie Kinsley, Stephen Lister, Randall Oliphant, Molly Rundle, Frank Tsui, Helen Vari, Ann Wilson and David Wilson.
Cecil thanked the "dynamic and dedicated team" of campaign executives and advisers "who will take our success to the next level."
Chancellor Peterson, whose term ends in a few months, told the audience he has been to 157 convocations and shaken 61,000 hands, and meeting Kate Bruce-Lockhart confirmed his passionate view that she and students graduating from U of T "will truly change the world."