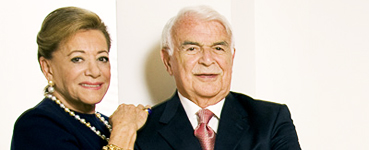 John and Myrna Daniels have given tremendous momentum to the Campaign with a $10 million benefaction. This leadership gift has lifted our sights and catalyzed a community-wide effort to revitalize One Spadina Crescent as a landmark and centre of excellence within Toronto's burgeoning design district. Their recent generosity builds upon a cornerstone gift of $14 million in 2008 that continues to transform the profession with implications for urban landscapes around the word. The couple's support for the Daniels Faculty adds to an impressive philanthropic legacy that spans Canada, the U.S. and Israel supporting causes in health care, education and the arts.
This generosity is combined with tireless volunteer leadership on behalf of the University. In addition to co-chairing the Campaign Cabinet for the Daniels Faculty, they are serving as honorary Chairs of the overall Boundless Campaign for the University of Toronto in New York.
John Daniels is an entrepreneur, architect and successful businessman who played a key role in the creation of such landmarks as Toronto's Eaton Centre and the Toronto-Dominion Centre. He founded The Daniels Corporation in 1983 and today serves as Chairman and CEO of the corporation which has grown to become a leader in the North American building industry.
Myrna Daniels is a former Professor of Speech Pathology and has worked in hospitals and universities in New York.