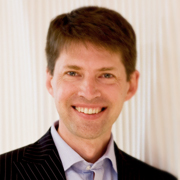 Tye Farrow, senior partner at Farrow Partnership Architects, fuses architecture that both lifts the human spirit and advances business goals. Drawing on themes from nature, he has designed award-winning projects across Canada and around the world. Farrow initiated a global "Cause Health" movement that accelerates demand for healthier ways of living. The Stockholm-based World Congress on Design and Health identified him as a global leader who is making "a significant contribution to health and humanity through the medium of architecture and design."
Closer to home, his approach to promoting wellness at the Credit Valley Hospital and the Thunder Bay Regional Health Sciences Centre in Canada is viewed internationally as setting a new standard for health care design. The Commission for Architecture and the Built Environment (CABE) in the United Kingdom selected Farrow's design for Credit Valley Hospital as 2007's Best International Design.
His work has been published in the British journals Architectural Review Magazine, AD Architectural Design and HD Hospital Development. He has been designated by The Globe and Mail's Report on Business magazine as one of Canada's Top 40 Under 40.
In addition to his degree from the University of Toronto, he holds a Master of Architecture in Urban Design from Harvard University.