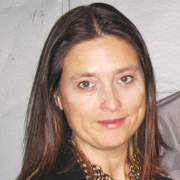 Pina Petricone shares her time as Principal of Giannone Petricone Associates and as a Professor of Architecture at the University of Toronto. This dual role allows Petricone to contribute intellectual rigor and research to the firm's projects and processes, as well as to give real projects academic consideration.
Her creativity and love of design has led to remarkable projects including the award-winning Juggernaut Offices and U of T's Centre for Ethics. Petricone's current portfolio includes the Albergo Massimo, a new business hotel in the EUR district in Rome, Italy and a mixed income development in Phase II of the Regent Park Revitalization Project in Toronto.
Her work and research has been published around the world and she has presented at prestigious conferences including at the Tectonics: Making Meaning, International Conference in the Netherlands; the Banff Sessions on Architecture, at the IFWorld Conference in Milan, Italy; and most recently at the Columbia University Think Tank ­­­­­on the Building Intelligence Project.
In 2012, Petricone celebrated the publication of her first book, "Concrete Ideas: Material to Shape a City", a collection of essays and studio projects she directed that speculate on whether current nanotechnologies have provoked a shift in the cultural status of concrete.
In addition to her undergraduate degree from the University of Toronto, she completed a Masters in Architecture from Princeton University in 1995. She has sat on several academic and professional juries, and recently was appointed a member of the Minister's Ontario Place Revitalization Panel.