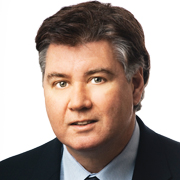 Wayne has 26 years of experience in real estate development and asset management with extensive expertise in developing office, retail and multi-residential projects representing several million square feet both in Canada and the United States. Wayne is responsible for the leadership of Cadillac Fairview's Development team, and the strategic planning and implementation of the company's overall office, retail and mixed use development platform. Cadillac Fairview owns and manages $22 billion in real estate assets and currently has $3.0 billion under development.
Wayne is a successful entrepreneur, who, prior to Cadillac Fairview, successfully founded and operated a residential high-rise condominium company for 12 years, where he developed a number of residential and mixed-use urban projects.
Wayne holds a Master of Architecture in Urban Design from Harvard University and a Bachelor of Architecture from the University of Toronto. He is a member of the Advisory Board of Harvard's Real Estate Academic Initiative, and serves on a number of community and charity boards including Branksome Hall Board of Governors, Branksome Hall Asia Board of Directors and Polo for Heart Advisory Committee.