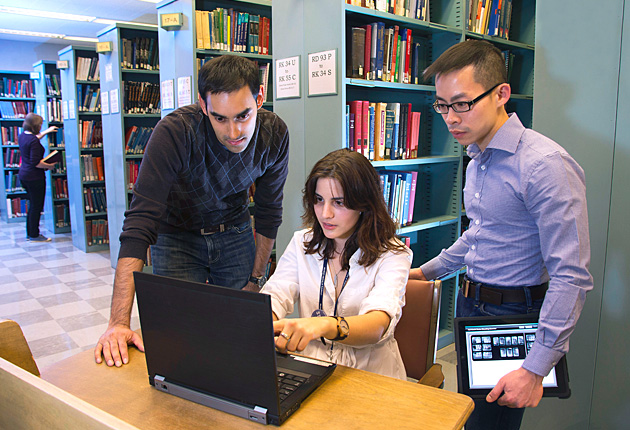 A $700,000 gift from the Dentistry Canada Fund will provide powerful new resources for Canadian dentists.
Posted on February 26, 2014
Dentistry Canada Fund's $700,000 gift will establish the Dr. Sydney Wood Bradley Dentistry Library Fund within the Faculty of Dentistry. This fund will grow the Faculty's comprehensive dental library which is Canada's largest such resource.
The need for this comprehensive resource is becoming increasingly important as the connections between oral health and general health are better understood, and the overall volume of oral health-related knowledge worldwide grows exponentially. The library's collections are readily accessible via a robust website as well as by telephone, interlibrary loan and in-person visits.
This gift from the Dentistry Canada Fund honours the legacy of Dr. Sydney Wood Bradley, who received his dentistry degree from the University of Toronto almost 100 years ago in 1906 and who was a former president of the Canadian Dental Association. The greater resources enabled by this gift will also bolster the Faculty's leading teaching, patient care, and research that have ramifications across human health.
"The University of Toronto's Dentistry Library, an important part of the University of Toronto Library system, is the only dedicated academic dental library in Canada," said Daniel Haas, Dean of the Faculty of Dentistry. "We are grateful to the Dentistry Canada Fund for supporting our uniquely focused perspective and team of library personnel devoted solely to advancing oral health."