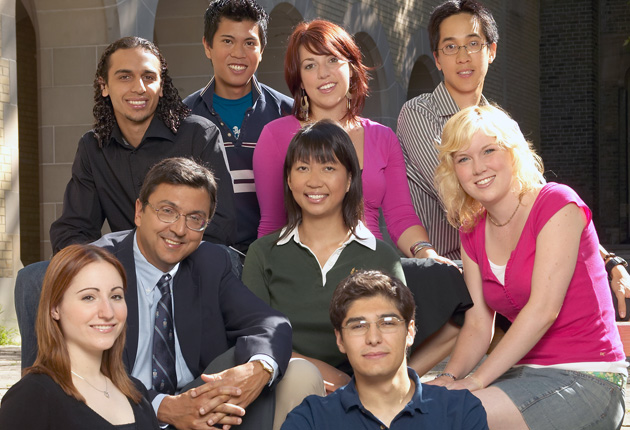 New major entry scholarship awards, established in tribute to David Naylor's presidency, will help U of T students develop into global leaders.
Posted on October 29, 2013
The University of Toronto has launched major entry scholarship programs aimed at attracting the brightest students and support their development as leaders in an increasingly global environment.  The awards have been established as a tribute to David Naylor's presidency.
Governing Council Chair Judy Goldring announced the establishment of the C. David Naylor University Scholarships (undergraduate awards) and the C. David Naylor University Fellowships (graduate awards) at an event October 9th to commemorate Naylor's term as president. "I can think of no more fitting way of honouring David—distinguished scholar and educator, academic leader, public policy and health sciences expert, and talented musician and athlete—and his legacy at U of T, than by developing future undergraduate and graduate leaders of similar breadth and calibre."
Both awards programs will be directed at students demonstrating academic excellence as well as outstanding leadership potential in one or more endeavours, including sports, arts, entrepreneurship or social enterprise.  Alumni, donors, and friends have contributed generously to create both scholarships. To date, more than $4 million has been raised to attract and support future U of T students.
The foundation of the undergraduate scholarships was established by Arthur and Susan Scace and the Henry White Kinnear Foundation, with an extraordinary lead gift that launched the fund, and inspired the University to come forward with a match on the annual endowed payout.  The Scaces are both proud Trinity College alumni who have each held a succession of senior volunteer roles in organizations dedicated to higher education, health and culture, and both have deep roots in the University.
The graduate awards have been established by Arthur and Sandra Irving, and the Arthur L. Irving Family Foundation, creating two awards in perpetuity.  Arthur Irving is Chancellor of Acadia University, and Sandra Irving has been Chair of the President's Advisory Council for the Royal Society of Canada. Sandra is U of T alumna with a graduate degree in political science, and the Irvings are both volunteers with long records of public service and leadership, who are national champions of higher education.
Major entry awards of this kind have long been a core academic priority for the University.  The criteria were developed with the Provost's and Registrar's offices, and will be administered centrally by U of T Enrolment Services and the School of Graduate Studies.
The undergraduate scholarships, valued at $20,000 each, will be among the top entrance awards in North America and will be a major boost to the University's ability to compete for top-tier Canadian students.  Thanks to support from across the U of T community, the University will be able to offer at least ten undergraduate scholarships per year; gifts to the program are still welcome and will contribute to an expansion of the number of scholarships.
The C. David Naylor University Fellowships for graduate students will complement these scholarships. Valued at $30,000, the new prestigious fellowships will support outstanding candidates from Atlantic Canadian provinces who are admitted to graduate programs across the University.
For more information about the C. David Naylor University Scholarships and Fellowships, or to make a contribution, please visit the giving webpage.