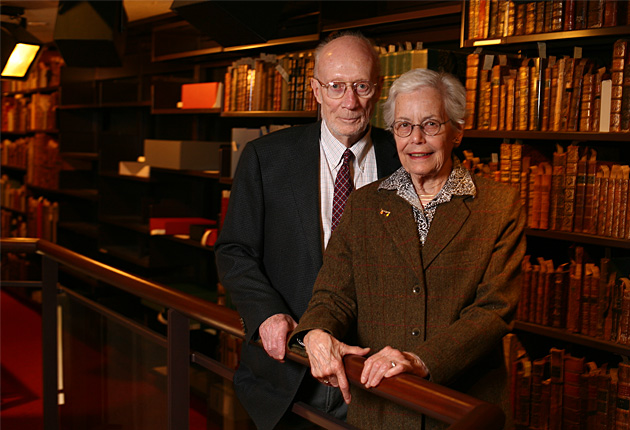 Friends of Russell and Katherine Morrison have generously pledged $535,000 in support for the Robarts Library Common initiative.
Posted on February 26, 2014
This fitting gift honours the Morrisons' longstanding commitment to U of T and to Robarts Library in particular, while celebrating a momentous milestone–Russell Morrison's 90th birthday.
Donations in Russell's honour were made by Richard Rooney (BA 1977 NEW), Arthur Labatt (Hon. LLD 2011) and Sonia Labatt (BA 1960 UC, MA 1990, PhD 1995, Hon. LLD 2011), Richard Jenkins, Bill Kanko, Robert C. Krembil, Michael and Sonja Koerner, Michael J. Needham, Craig Pho, and John D. McNeil. Each of these donors provided gifts to honour Russell Morrison, his influence on them personally, and within the Canadian business community. The gift was also assisted by University funds in recognition of the importance of the Robarts Common as a student priority–a project that the Morrisons have themselves supported very generously. In honour of their generosity, a new "Friends of Russell Morrison Apex," will be named in an area near holdings of significance to the Morrisons.
"This is really a vote of confidence in the students," said Russell. Katherine, who spent a lot of time in Robarts while completing her PhD in English, acknowledged study space as a particularly important issue for commuters. "If you have one class at 9 a.m. and one at 3 p.m., you need somewhere to go in-between," she says.
The Robarts Common is the signature project of the Robarts Library renewal and an important part of U of T's Boundless Campaign. The Morrisons provided the lead gift for the Common, which will become a new face of Robarts Library, enhancing the building's relationship with the St. George campus by opening up the west side of the building to the street, bringing a flood of natural light to the lower floors and making the overall environment more inviting, accessible and productive for students.
Eighteen thousand students, faculty, staff, alumni and members of the public visit Robarts Library every day. These remarkable numbers are expected to grow in the years ahead, and the Common will go a long way towards meeting increased need by adding 1,222 new study spaces to Robarts, bringing the library's total number of spaces to 6,027. These spaces have been designed to the highest standards and reflect the diverse ways in which today's students use the library. The Common will also feature group study areas to accommodate the more social aspects of learning, and the growth of collaboration and teamwork in higher education.
The Morrisons were motivated by a belief in the enduring importance of university libraries and student study space. Gifts from the Morrisons have already helped create 1412 new student spaces in the Morrison Pavilion, the popular, modern student study mecca at Gerstein Library, increasing the capacity there by 90 per cent. The Morrisons have also supported Morrison Hall, the University College residence on St. George Street.