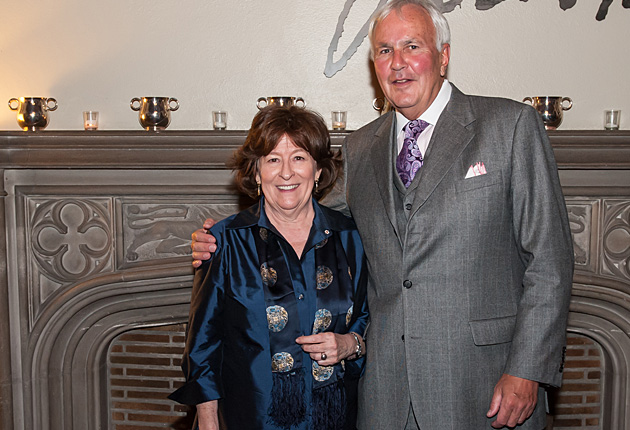 Louise Arbour was the inaugural speaker at the David Peterson Leadership Lecture Series – a fitting first presenter for a program aimed at developing tomorrow's public policy leaders and bringing some of the brightest minds in public policy to U of T.
Posted on February 26, 2014
Arbour has spent an impressive career as an internationally renowned judge and lawyer. A former judge for the Supreme Court of Canada, she became the United Nations High Commissioner for Human Rights in 2004 and gained international status for her role as Chief Prosecutor during The International Criminal Tribunals relating to war crimes in Rwanda and the former Yugoslavia.
In her lecture, Arbour spoke of the state of such doctrines such as the international court of criminal justice and its ability to be an effective tool for conflict prevention, management and resolution. "There is a poverty of imagination and a lack of resolution in how best to use these doctrines that initially held a lot of promise at their inception. I think that is our challenge for the few years to come."
"It was a very uplifting lecture, stunningly good, which made for a terrific inaugural event," said Peterson (LLB 1967, Hon. LLD 1994), former Premier of Ontario and U of T Chancellor Emeritus. "But it's only the next step in realizing the vision that (SPPG Director) Mark Stabile has for the School."
"David Peterson is helping the School realize this vision through the example he has set as one of this country's leading public figures, through his extraordinary generosity, and through his personal interactions with the School's faculty and students," says Stabile.
Peterson is indeed one of the driving forces behind SPPG. Established in 2006 — the same year Peterson became Chancellor — it was created to educate the most effective and forward-thinking practitioners and leaders in public policy to address challenging issues confronting governments at all levels. It has quickly become a national hub for policy discourse, bringing researchers, professors, students, government and business leaders together to engage in policy discussions across many areas of expertise.
But Peterson's—and the School's—aspirations are far loftier than educating people for the civil service, or even leading Canada in the field of public policy more generally. "SPPG is about using political instruments to make a better world. It's about bringing in the best thinkers to instruct and guide the next generations of problem solvers."
Peterson says that in the grand scheme of things, SPPG may be a young school, but its ambitions are to attain world-class status on par with Harvard's Kennedy School of Government. The key to realizing this vision, he believes, lies in the ability to "capture and nurture the idealism and creativity" of the best and brightest students from across Canada and around the world, and "quite frankly, that takes funding."
Peterson is doing his part. He sits on the SPPG External Advisory Board, and is also one of the School's most generous supporters, along with visionary philanthropist Seymour Schulich. Together, their donations to SPPG's $25-million fundraising campaign, which is part of the University's historic $2-billion Boundless campaign, have helped establish the David Peterson Program in Public Sector Leadership, along with the lecture series in his name.
"My whole life has been about public service—it's the second-highest calling after teaching," Peterson says. "It's about committing your life, your energy and your resources to solving the problems that we all face, not just your own problems. We need original thought, original ideas and innovations, and we are looking to the work being done by the faculty and students at SPPG to solve these problems."
Support the School of Public Policy and Governance