Linda Schuyler, co-creator of the award-winning Degrassi franchise, has made a $1-million gift to U of T - a fitting reflection of her commitment to promoting respect for individual differences through her work.
Posted on June 29, 2015
Degrassi. It might just be impossible to capture the impact of the iconic Canadian television franchise in all its iterations.
When you hear the name, do you think of characters such as Joey Jeremiah and Spike? Or Drake, before he became a bestselling music phenom and the face of the Toronto Raptors? (See the CBC's take on Drake's Ten Best Degrassi Moments.)
Do you picture homegrown talent like Broadway star Jake Epstein or guest appearances by American cult filmmaker and diehard Degrassi fan Kevin Smith? How about the short-lived stint by award-winning writer Susin Nielsen as doomed janitor Louella Hawkins?
Over the decades, Degrassi has introduced generations of viewers to memorable characters. But it has also dealt with issues such as teen pregnancy, gay rights, eating disorders, drugs, cheating, depression and suicide.
Charlie Keil, a professor in the University of Toronto's Cinema Studies Institute and department of history, says Degrassi co-creator and alumna Linda Schuyler has had a significant impact on how we view and discuss teen culture in this country.
"The shows take the issues besetting teen culture much more seriously than other similar shows," Kiel says. "Rather than sensationalize or glamourize them, Linda has tried to adopt the perspective of teenagers themselves, and tried to give them a voice in something that is designed as entertainment, but conveys the seriousness of these issues by teens for teens."
For viewers of a certain age, the key episode might have come in 1987's Degrassi Junior High, when Christine "Spike" Nelson became pregnant at age 14. That episode won an International Emmy. But other standouts include the episode where a male character became paralyzed by a school shooting or the one (originally banned from airing in the United States) where a 14-year-old female character had an abortion. And then there's the two-part episode where a male character grappled with his gender identity. That won a Peabody Award.
"That is the legacy of a show like this and the reason for its enduring appeal – it incorporates the treatment of social problems, but also normalizes them. There aren't many shows that are able to do that," Keil says. "This kind of programming not only reflects the culture, but influences the culture and edges it forward."
Recently, Schuyler decided to support youth in a new way, quietly donating $1 million to the University of Toronto's Boundless campaign. The funds have been allocated in a way that pays tribute to the Innis College program that helped launch her career and that reflects her commitment to respecting individual differences, particularly when it comes to sexual orientation – a subject often addressed in the pioneering youth culture programming she has produced over the last 35 years.
"I hope the gift will help enrich students' lives by exposing them to more diversity," says Schuyler, an Order of Canada and Order of Ontario member, and recipient of an Academy Achievement Award from the Gemini Awards.
"Improving understanding and acceptance of individual differences makes it possible to raise a generation of much more compassionate people."
The majority of Schuyler's gift – $550,000 – went toward renovating Innis Town Hall, a prime film screening space that serves cinema studies students and hosts local film events. The money helped upgrade the projection booth, which previously used only analog technology to screen 16- and 35-mm films. The new Linda Schuyler Projection Booth includes modern digital equipment that allows for screening a broader range of both vintage and contemporary films.
"For people at the University and in Toronto, it's really terrific that we now have what is a premiere theatre. Especially when teaching film, the quality of the space, sound and image are very important," says Janet Paterson, principal of Innis College.
The Mark S. Bonham Centre for Sexual Diversity Studies at University College will receive $225,000. Of that total, $175,000 will create a Global Education Fund to introduce courses about sexual diversity outside North America. As well, an endowment of $50,000 will establish the Linda Schuyler Student Award, which will provide the Centre's first-ever international research opportunities for intellectually accomplished students. Specifically, recipients will be able to use the funds to attend conferences or conduct fieldwork in global settings.
"Linda has been so interested in raising awareness about sexual diversity, so it's perfect that this gift is coming from her," says Brenda Cossman, director of the Centre, which in 2011 gave Schuyler a Bonham Centre Award for her contributions to advancing sexual diversity education. "This will provide us with an opportunity to think about global diversity issues and how they all come together to build a global LGTB movement. It will also enable students to engage with classroom concepts in the real world."
Finally, Schuyler directed $225,000 to the Media Commons, the University's repository of archival and contemporary audio-visual research resources.The Commons is currently working to digitize its analog holdings and preserve its original digital material. The gift will establish the Linda Schuyler Digitization Fund for Preservation and Access, which will help with hiring support personnel and purchasing needed hardware and software.
The fund will also focus on digitizing the current holdings in its collection from Schuyler's former production company Epitome Pictures, which includes four years' worth of textual records, photographs, video recordings, audio recordings and other materials from three seasons of Riverdale, the primetime soap opera Schuyler produced from 1996 to 2000. The eventual goal is to digitize Schuyler's entire body of television work, which has included programs such as Liberty Street, Instant Star, The L.A. Complex and, of course, the various Degrassi series, which have earned two international Emmys, nine Gemini Awards, and countless other honours.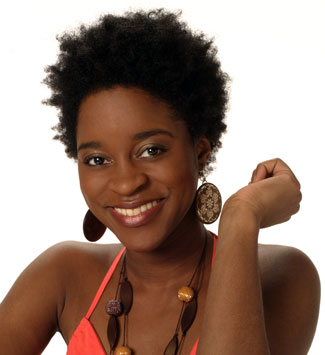 Drake may be Degrassi's most famous alumnus but over the years Schuyler has helped many actors from Innis College's Cinema Studies program, including Jajube Mandiela (pictured at right) who for eight seasons from 2005 to 2012 played Chantay Black, a confident, upbeat and also gossipy student who was the captain of the school's cheerleading team. Her character was involved in plotlines that dealt with everything from racism to self-image to dating to friendship conflicts.
"I was a fan of the original series when it was in replays, and it was really lovely to be part of a groundbreaking show that explored controversial teen issues in a way that set a precedent for other shows in this genre," says Mandiela, a cinema studies and philosophy student at U of T who is currently artistic director of b current, a Toronto-based theatre company rooted in cultural diversity.
"I think Degrassi is part of Canada's cultural legacy."
Actor Samii Folliott also got a professional boost from Schuyler a few years ago when she was recruited to perform on seven episodes of the show during seasons 10 and 11. She played Hannah Belmont, a smart and kind Grade 10 student who was the love interest of a nerdy but lovable classmate.
Today, the fourth-year cinema studies student can watch a wider array of films thanks to Schuyler's donation to Innis and the updated projection booth.
"For Linda to give us this technology so we can watch films in the formats they were meant to be shown in is such a privilege," says Folliott.
"She's a role model for aspiring young filmmakers, or anyone who wants to be in this business in any sort of way."