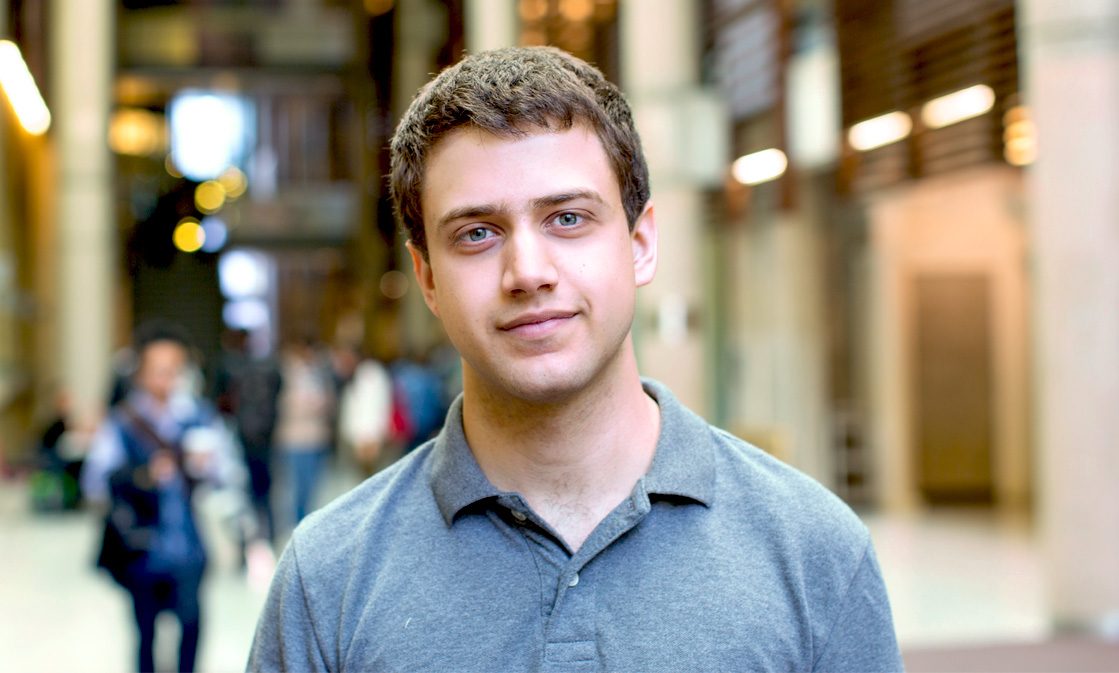 When recent U of T Engineering graduate Mauricio Curbelo (BASc 2014) was in his second year, he helped lay the groundwork for one of the largest donations in Engineering Society history. He just didn't know it at the time.
Posted on December 8, 2016
As Engineering Society (EngSoc)'s vice-president, external, Mauricio Curbelo was part of a team that established the Skule Endowment Fund in 2011–a fund generated by voluntary annual student contributions of $100 each and intended to finance a variety of student-related initiatives.
It was this same fund that EngSoc drew from in 2013, under Curbelo's then-presidency, to donate $1 million to the Centre for Engineering Innovation & Entrepreneurship (CEIE), providing a dedicated space for student clubs to socialize, hold events and collaborate on group projects.
"The Engineering Society's generous commitment to the CEIE speaks volumes about our students' dedication to engineering excellence," Dean Cristina Amon says. "It's a remarkable demonstration of support and proves just how vital the new collaborative space will be to future students."
Along with the EngSoc, several members of engineering's campaign executive committee, along with early supporters, have rallied behind the vision for this new building, committing more than $26 million to help accelerate plans to build it. These supporters include George Myhal (BASc 1978), chair of the Engineering Campaign Executive Committee, who made a lead gift to the project, Peter Allen (BASc 1996), Kathleen and Bill Troost (BASc 1967), Walter Curlook (MMS 1950; MASc 1951; PhD 1953) and Paul Cadario (BASc 1973).
Inspired by the impact of generous alumni donations
Curbelo explains that for the students, "It was never really a question as to whether EngSoc would contribute toward the CEIE. We had the money in the Skule Endowment Fund and that's what it was intended for. We thought it was a great opportunity to make a contribution, have a seat at the table, top up the project support and put the student space issue on the map."
Curbelo and his fellow students knew that as soon-to-be graduates, they were not going to benefit the way future students will. But he says not one of his classmates ever questioned making the donation. "I think the more that you do outside of the classroom, the more you see the impact of alumni donations and their generosity," he says. "We all understood the impact that alumni had on us when we were still in school, so for us to be able to give back to future generations was really a no-brainer."
A student's-eye vision of a versatile learning space
The EngSoc's vision is for the space to be a versatile one in which students can have space–particularly storage for the equipment that they are often required to carry around. "It makes a big difference to have one small locker somewhere on campus where they can keep that stuff. And to have a space that encourages students to balance school with extracurriculars."
Extracurricular, co-curricular and curricular activities not only develop crucial teamwork, leadership and communication competencies needed for entrepreneurship, but they also can enable technical breakthroughs. One example is the University of Toronto Supermileage team, which designed a car with an efficiency of 3,421 miles per gallon, winning the 2015 Shell Eco-Marathon Americas in Detroit, Michigan.
The student space will also include project rooms that can be used by nascent companies to host meetings or optimize product design, with an arena-like events area perfect for launching the products from tomorrow's U of T Engineering startups.
The Centre for Engineering Innovation & Entrepreneurship is quickly taking shape and promises to be one of the finest teaching and learning environments in the world when it opens in 2017.