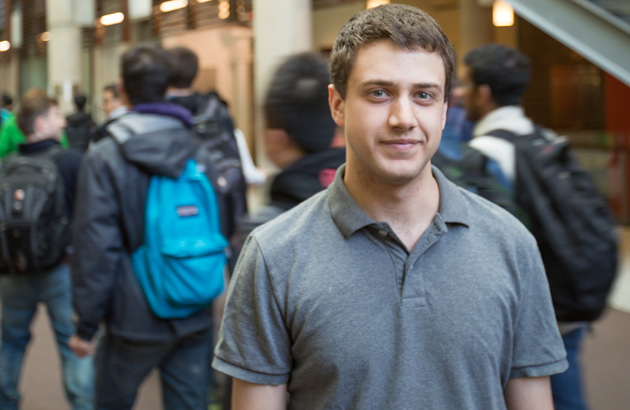 The Faculty of Applied Science & Engineering's undergraduate student society, SKULE, has donated $1 million to build versatile student club space in the new Centre for Engineering Innovation & Entrepreneurship.
Posted on October 23, 2013
Students voted to donate part of a fund created from their contributions over the past three years to create a legacy for future students.
"Students are enthusiastic to support the building, even though it will be opened after most of us have graduated," says fourth-year civil engineering student Mauricio Curbelo, president of the Engineering Society.
The gift will help build the Centre's flexible facilities that directly serve the requirements of the Faculty's more than 80 student clubs that involve some 1,700 students. The new student club space will feature essential and convenient storage, in a space that, when suitably managed with reservation schedules, can support a range of important activities including light fabrication of projects.
The Centre itself will serve as the hub of U of T Engineering's collaborative learning and interdisciplinary research, housing interactive spaces for learning and design, as well as a number of multidisciplinary research centres and institutes. The building will also serve as a home for the Faculty's recently launched Entrepreneurship Hatchery, which encourages and supports engineering students interested in launching entrepreneurial ventures.  Located on St. George Street, adjacent to iconic Convocation Hall, the CEIE is targeted to open in 2016.
George Myhal, a 1978 engineering graduate and Chair of the Faculty's Campaign Executive Committee said: "I can't think of a more inspirational donation than this generous contribution from the Engineering Society to build a better place for tomorrow's students. It speaks to the character and vision of our bright scholars." Last year, Myhal himself made a pace-setting gift to the Centre, which you can read about here.
Participation in clubs and teams allows students to develop hands-on skills ranging from engineering design to project management and communication, ultimately improving the quality and well-roundedness of graduates, says Curbelo.  "High-quality student space, especially for clubs and teams, is a tremendous contributor to the co- and extra-curricular experience here.  The Centre for Engineering Innovation and Entrepreneurship will make this an even better place to be a student."  He adds that the Engineering Society believes that a diverse set of out-of-the-classroom experiences is essential in preparing students to face engineering challenges upon graduation. He says the building will be "a tremendous boon to students participating in those extracurricular opportunities."
The gift will name the student club space for the Engineering Society. "This contribution improves the student experience at the Faculty for years and decades to come," says Curbelo. "That's why the students of today are proud to make this gift to the students of tomorrow."