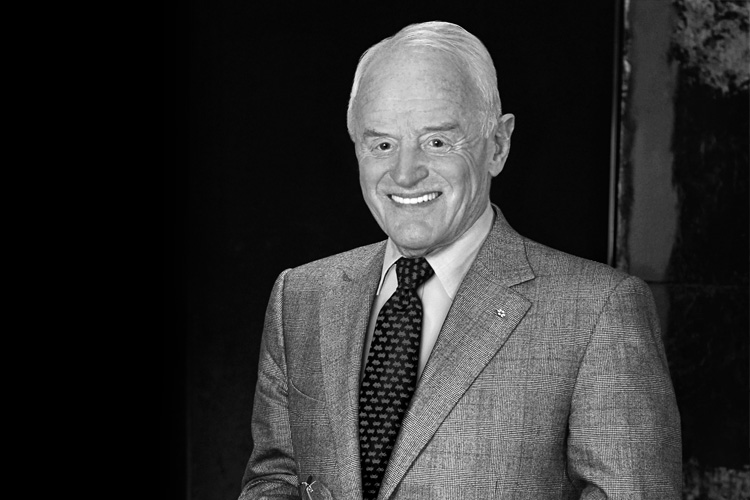 The University of Toronto community has lost a most generous and visionary alumnus and benefactor, Peter Munk, who passed away at the age of 90.
Posted on March 28, 2018
A legendary Canadian icon, entrepreneur and philanthropist, Peter Munk helped put Canada on the world stage and has left an indelible mark on the University of Toronto.
"Peter Munk led an extraordinary life, during which he secured his place in history as one of Canada's most daring and successful entrepreneurs," said U of T President Meric Gertler. "Indeed, he proved that Canada can compete and win on the world stage. Peter was fond of saying U of T is what made me a Canadian. It is hard to imagine a more compelling way to capture the close relationship between him and his alma mater. His lifelong commitment to excellence exemplifies what the University of Toronto stands for, and we are immensely proud of everything he accomplished as one of our graduates. As a true innovator, and as one of the country's most generous philanthropists, Peter Munk will be deeply missed by our community and by all those who benefited from his vision for a better Canada. Our thoughts are with Melanie Munk, Peter Munk's children, and his wider circle of loved ones."
Peter Munk's long history with the University began when he moved from Hungary to Canada on a student visa, in 1948, and began a bachelor's degree at the Faculty of Applied Science and Engineering. It was Munk's time at U of T that led him and his wife, Melanie, to place U of T at the centre of their philanthropy for nearly 40 years. The Munks are one of the University's most generous benefactors and have cumulatively given more than $51.1 million to key priorities across the University. The crowning achievement of their legacy at U of T was to establish first the Munk Centre for International Studies in 1996, and later the Munk School of Global Affairs in 2010. Peter Munk's extraordinary generosity launched what would soon become an internationally acclaimed academic powerhouse, advancing our understanding of international social, political, and economic issues on the global stage.
"Peter was never afraid to dream big and take risks, and students and faculty at the Munk School take him as their inspiration," said Janice Gross Stein, Founding Director of the Munk School of Global Affairs. "If you ask me why the Munk School has been such a success, I would say it's the entrepreneurial spirit and the culture of innovation that we've created together over the past decade. In this, our brilliant students are emulating the path blazed by the Munk School's founding benefactor. Peter was a role model in many different ways, to many different people, and he leaves behind a tremendous legacy in Toronto and Canada."
Randall Hansen, current Director of the Munk School, said, "A proud Canadian, Peter was a patriot in the best sense of the word. No one who heard him speak about his story and his gratitude to this country could be anything but moved. He profoundly believed that Canada should lead the global conversation on the most pressing issues of the day and this belief led to his decision to found a global affairs school at the heart of the University of Toronto. We are incredibly grateful for his generosity and will strive to ensure that the Munk School stands as a testament to his legacy."
Through the Peter Munk Charitable Foundation, the Munks championed a wide range of endeavours in Canada and abroad. In 1997, they established the Peter Munk Cardiac Centre at Toronto General Hospital, part of Toronto's University Health Network. The Centre quickly became a world leader in diagnosing and treating cardiac and vascular disease. More recently, the Foundation increased its support with a second transformative gift to advance research, reduce healthcare delivery costs, and improve the lives of patients. The Munk Debates, a semi-annual event at Toronto's Roy Thomson Hall established in 2008, have become a Canadian institution in their own right, consistently addressing the most pressing issues of our time. The Foundation has also long supported the Technion-Israel Institute of Technology's Centre for Research, Innovation and Technology, in Haifa, Israel.
Peter Munk founded his first company, Clairtone, in 1958, to manufacture high quality stereo equipment and televisions with a strikingly modern design. Later, Munk founded the Southern Pacific Hotel Corporation, which ran a string of resorts throughout Australasia, and branched into real estate, establishing Trizec Properties. Munk's greatest financial success came with Barrick Gold, which has become one of the world's largest gold companies.
"Peter Munk was one of the true Canadian visionaries, a legendary philanthropist and businessman whose generosity to the University knew no bounds," said David Cameron, Dean of the Faculty of Arts and Science. "When he fled Nazi-occupied Hungary to Canada seven decades ago, he brought little with him except his innate intelligence and creativity, his passion for excellence, and his willingness to take risks and challenge conventional wisdom. That spirit animates U of T's Munk School of Global Affairs, and will continue to inspire our faculty and students in their effort to advance understanding and dialogue in this field. He was determined to strengthen the influence of Canadians in the global arena—and in this he had no equal."
The University recognized Peter Munk's leadership in business and innovation with an honorary Doctor of Laws in 1995. He was a proud alumnus of the University and helped guide and support U of T as an Honorary Chair of the University's Boundless Campaign. His leadership and dedication to U of T have also been recognized by an honorary Doctor of Sacred Letters from Trinity College in 2004. Beyond our campus, Peter Munk was named a Companion of the Order of Canada, and became the first person outside the United States to be recognized with the Woodrow Wilson Award for Corporate Citizenship in 2002.
"Peter Munk's contributions to higher education and health are virtually unparalleled in Canada and continue to make a truly global impact," said David Palmer, Vice-President Advancement. "The Munk School of Global Affairs is educating Canada's future leaders in global affairs and helping to lead a global conversation in which Canada's voice is heard loud and clear. None of this would have been possible without the tremendous vision and generosity of this truly great Canadian."
A Bold Vision

A memorial book is on display at the Munk School of Global Affairs, 315 Bloor St. West from 9am-6pm each day. Please visit the Munk School if you wish to add a message about the impact that Mr. and Mrs. Munk's generosity has had on you and on the University community.