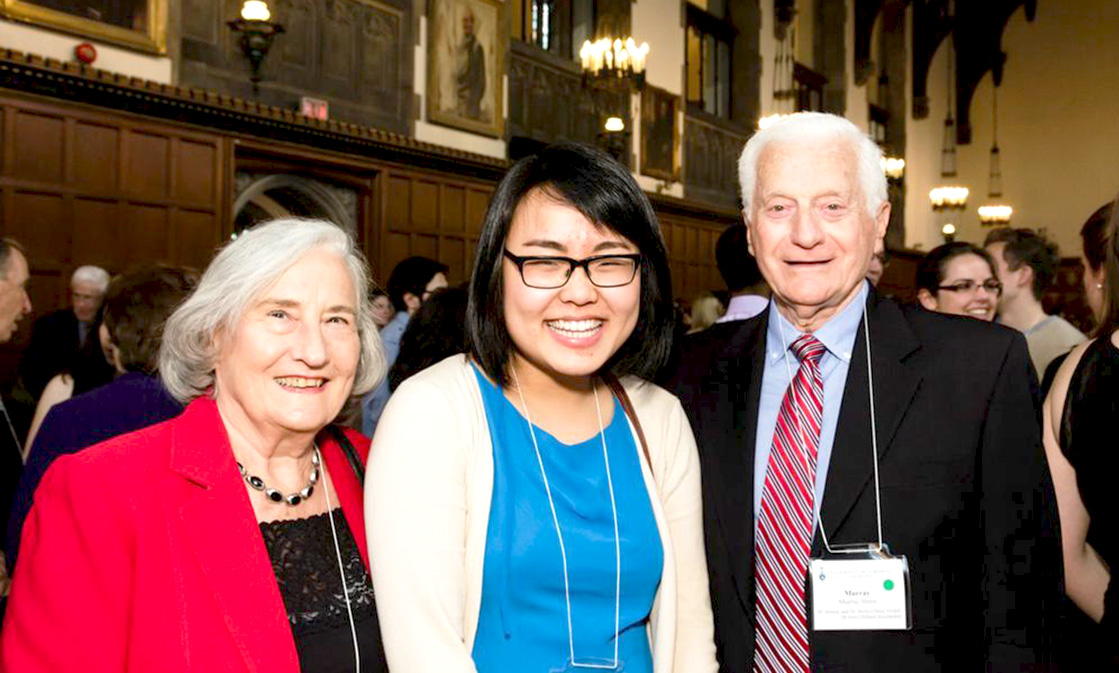 Donors like Roslyn and Murray Herst are helping the Boundless campaign build on U of T's commitment to accessibility and outstanding education by raising vital funds for student aid.
Posted on December 8, 2016
Dr. Roslyn Herst says she and her husband Dr. Murray Herst followed unconventional paths after graduating from U of T Medicine. And through their financial support, medical students today are finding their own paths that lead to successful careers.
The Hersts have been supporting the Faculty of Medicine since 1985 and jointly established two awards in support of undergraduate MD students, one in 2012 under the Boundless Promise Matching Program and another in 2006 under the the Ontario Trust for Student Support program. Their remarkable commitment has helped U of T honour its pledge that no qualified undergraduate student will have to decline admission or withdraw from studies due to financial circumstances.
"We both had interesting and successful careers and we wanted to give something back"
"The real interesting thing about medicine is that the work can be so varied," Roslyn Herst said. "We both had interesting and successful careers and we wanted to give something back to the faculty that helped us along our path."
Her specialty was haematology and for 22 years she was the medical director at a regional blood centre in Toronto for the Royal Canadian Blood Transfusion Service (now called Canadian Blood Services). Murray Herst practiced family medicine and served as medical director for the Homes for the Aged for the City of Toronto. They met while she was in high school at Harbord Collegiate and he was in medical school. Roslyn graduated in 1958; Murray in 1955. They are now retired.
How philanthropic support transforms student lives
The Hersts recently met Paige Zhang, a past winner of the Dr. Murray and Dr. Roslyn Herst Award at the Faculty of Medicine Student Awards Reception. "She was so grateful, it was very moving to meet her," Roslyn said. "She was interested in literature, and the narrative approach to medicine."
Philanthropic support is essential to nurturing the promise of our most talented students
"I'm very appreciative to Dr. Murray and Dr. Roslyn Herst for their generous support—it means that I can focus on my studies and not the financial stresses of pursuing an education," said Zhang. "It was great to meet the Hersts at the awards dinner—they were both very kind and supportive and full of great advice that I will use as I continue my medical education."
Philanthropic support is essential to nurturing the promise of our most talented students.
The Boundless Promise Program matches donations of $25,000 or more in support of needs-based awards at the University. When a donor makes such a gift, that benefaction is invested in the endowment, which in turn generates a permanent annual payout for the student award, matched by the University's operating fund. The result goes above and beyond what U of T already commits to student financial aid annually. This remarkable giving opportunity will make a lasting impact in the lives of our students and the future of our country.
---
How donor support has transformed student financial aid and programs
Including funds raised by the Boundless Promise Program, and support for other scholarships and awards, the Boundless campaign has raised $316 million for student financial aid and programs. This investment is helping us deliver a powerful student experience by funding more than 3,400 scholarships, as well as student-focused initiatives such as smaller learning communities, international internships, research opportunities and more.
These investments come at a critical time. Many of our students simply could not afford an education without the help of scholarships. About 51 per cent of first-year students receiving provincial assistance (OSAP) report a total family income of less than $50,000 per annum. U of T's exceptional commitment to financial aid helps to ensure that these bright students receive a transformational education at one of the world's best universities.