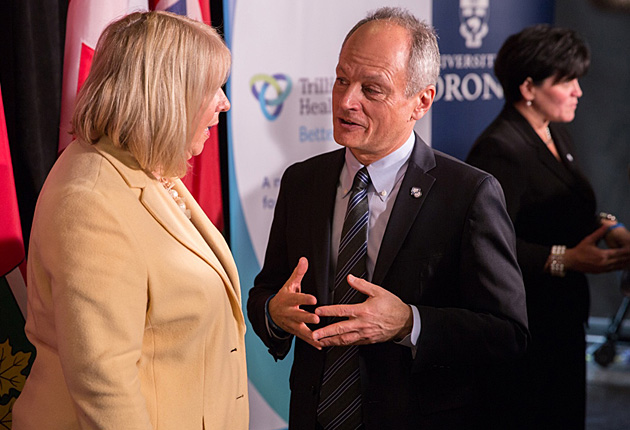 Inspired by a landmark $20-million gift from an anonymous donor, matched generously by the Government of Ontario, the University of Toronto is partnering with three leading health care and research institutions to create a $60-million initiative addressing a major gap in our health care system: the care of those suffering from simultaneous mental and physical illnesses.
Posted on February 26, 2014
The creation of the Medical Psychiatry Alliance was announced at the Centre for Addiction and Mental Health (CAMH) on January 28, 2014. In attendance were representatives from the four founding partner institutions: University of Toronto, CAMH, the Hospital for Sick Children and Trillium Health Partners.
Ontario Minister of Health and Long-Term Care Deb Matthews was also on hand to announce the province's $20-million grant to the Alliance, matching the $20-million gift. Each of the four partners has also committed to raising additional funds and providing critical resources to make the $60-million initiative a reality.
"The University of Toronto has a long and proud history of leadership and innovation in the education of mental health professionals, and of collaborative leadership in mental health care, all informed by groundbreaking research in the field," said U of T President Meric Gertler. "We are delighted to be a founding partner in this initiative to improve dramatically the quality of health care for the most vulnerable in our society, and for all Ontarians."
More than 1.3 million Ontarians currently suffer from combined physical and mental illness. Studies of health systems around the world as well as first-hand experiences from those on the frontlines of care have shown that patients with these co-morbidities are often ill-served with potentially severe consequences. The challenge stems from the fact that our health care system is designed to focus on either physical or mental illness, but not both at the same time.
An additional consequence of the lack of coordination between physical and mental health care is sharply elevated costs to the system for these types of patients. This occurs because health care providers, in the absence of a comprehensive diagnosis, may over-investigate the physical symptoms, resulting in unnecessary diagnostic testing and recurrent use of family doctors and emergency department resources.
"Mental illness is often hidden within the symptoms of physical disorders, with treatment focusing on physical illness while the mental illness remains undiagnosed and untreated," said Ontario Minister for Health and Long-Term Care Deb Matthews. "That's why this initiative and Bell Let's Talk Day are so important – intervening early and getting patients the treatment they need will help people living with these illnesses recover better and live healthy lives."
The Medical Psychiatry Alliance will develop a new integrated model of care to address combined mental and physical illness, based upon research and novel integrated approaches to the education of health care professionals. In these efforts, it builds upon the distinct strengths and patient populations of the four partners and their wider networks.
"The Toronto region is one of the few places in the world with the capacity to launch such a comprehensive effort," said U of T Faculty of Medicine Dean Catharine Whiteside. "This is enabled by our critical mass of collaborative clinical and health sciences resources, and effective community engagement."
Trevor Young, chair of U of T's Department of Psychiatry, hailed the creation of the Medical Psychiatry Alliance as a major step forward in the health and welfare of Ontarians.
"We are confident that this is one of the most clear and direct opportunities to improve health care in Ontario," he said.
In his remarks, Gertler also thanked the private donor, who has chosen to remain anonymous: "While the countless individuals who will benefit from your generosity will not know you by name, you will have been a crucial source of healing in their lives. For that we are all deeply grateful."