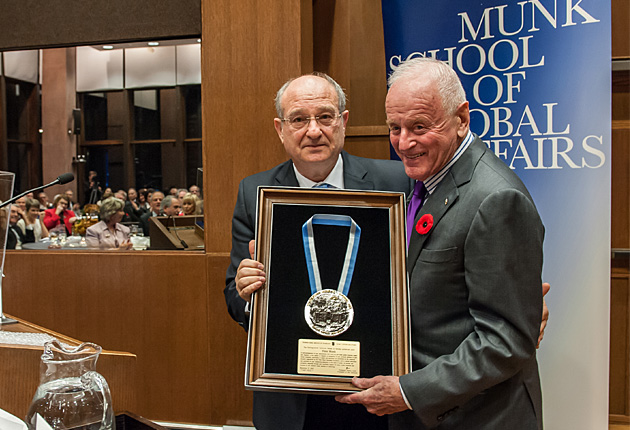 The award, honouring contributions to education, health care, and public policy, was presented to business leader and philanthropist Peter Munk on November 10, 2013, at the Munk School of Global Affairs.
Posted on February 26, 2014
Distinguished business leader and philanthropist Peter Munk (BASc 1952, Hon. LLD 1995, Hon. DSL 2004 TRIN) was presented with the Technion Medal of Honour by Prof. Peretz Lavie, President of the Technion Israel Institute of Technology at a ceremony on November 10, at the Munk School of Global Affairs in Toronto.
Peter Munk has made significant contributions to support education, health care and the advancement of public policy in both Canada and Israel. He and his wife Melanie (Hon. DSL 2004 TRIN) have given more than $50 million to U of T, including a $35 million gift to enhance the programs at the Munk School of Global Affairs. The Munks' gift to the school is rooted in a deep understanding of how important it is for Canadians to engage the world and to gain international experience and perspective in this complex global environment. The gift catalyzed additional grants from the federal and provincial governments to support the growth of the Munk School.
The Munks' philanthropy has also helped establish key institutions worldwide, including the Technion's Centre for Research, Innovation and Technology. Technion President Prof. Peretz Lavie travelled to Toronto for the celebration, which was co-hosted by U of T President Meric Gertler, Munk School Director Janice Stein and Technion Canada President Marvin Ostin.
In presenting the Technion Medal of Honour, Prof. Lavie thanked Peter and Melanie Munk for being singular champions of innovation in their support of the Technion. Both Prof. Lavie and President Gertler spoke of how Peter and Melanie Munk's vision and leadership have built tremendous opportunities for U of T and the Technion to work on joint projects. President Gertler outlined, for example, the new partnership with the Innovation and Policy Lab at the Munk School, which will study innovation and entrepreneurship in a comparative setting with Israel, as well as partnerships with one of U of T's affiliated hospital partners, University Health Network's Peter Munk Cardiac Centre, as examples of these collaborations.
"The Munks were ahead of the curve when it came to recognizing the advantages and challenges of a globally connected world, leading to the school becoming a hotbed of innovation," said President Gertler.
Stein spoke of Peter Munk's extraordinary commitment to giving young Canadians the opportunity to develop a global outlook. His sense of gratitude to Canada "is matched only by his love of this country."