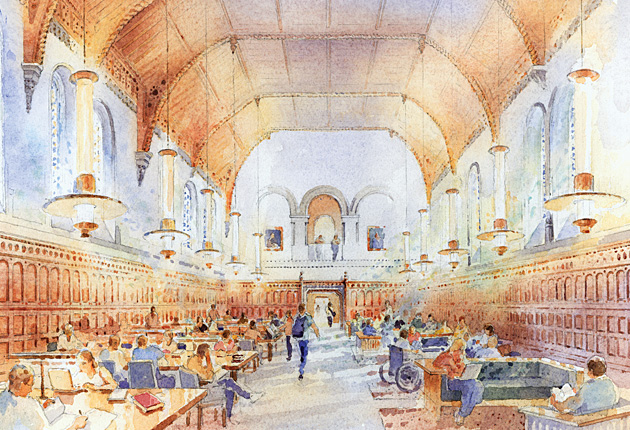 A bold plan to revitalize the interior spaces of University College has taken a leap forward with the generous donation of $2.5 million by Ed (BA 1969 UC, Hon. LLD 2012) and Fran (BA 1969 UC, MA 1990, PhD 2002) Clark toward the restoration of the West Hall.
Posted on February 26, 2014
University College is at the centre of U of T, geographically and philosophically. The opening of UC in 1853 marked the rebirth of the University as a non-sectarian institution of higher learning. The West Hall's interior has played a central role in Convocation for thousands of graduating students as an assembly space for donning cap and gown. It has also served as an exhibition space for the collections of the Royal Ontario Museum.
Now, it will be renamed the Clark Reading Room and updated with technology that will not interfere with the heritage of the space. The new name for the West Hall is thoroughly grounded in U of T tradition. Ed, the president and CEO of TD Bank Group, is an alumnus of UC whose father, Samuel Delbert "Del" Clark (PhD 1938, Hon. LLD 1988), founded sociology as a discipline at U of T. Fran Clark's parents were Dr. John P. Fletcher (BA 1933 UC, MD 1937) and Jean P. Fletcher (BA 1933 UC, MA 1934, PhD 1938), a physiologist who worked alongside Drs. Charles H. Best (BA 1921 UC, MA 1922, MB 1925, MD 1932) and Frederick G. Banting (MB 1916, MD 1922), who discovered insulin along with J.J.R. Macleod and J.B. Collip (BA 1912 VIC, MA 1913) at the University of Toronto. Banting and J.J.R. Macleod subsequently won the Nobel Prize in Medicine for this groundbreaking work. Both the Fletchers were UC graduates, as indeed are Ed and Fran Clark — they met as students in residence. Other Clark gifts to U of T include the S.D. Clark Chair of Sociology and the Fletcher-Clark OSOTF Scholarships in Science and/or Economics.