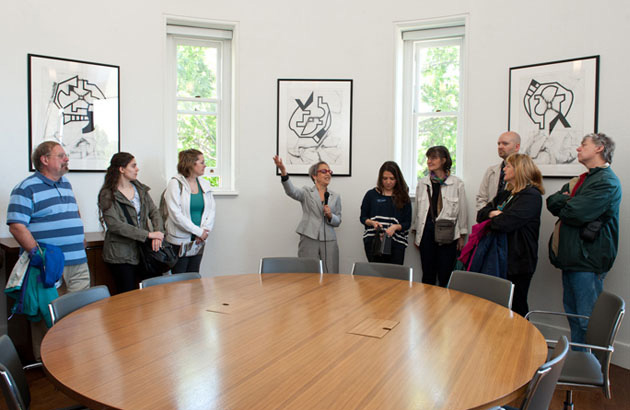 More than 3,000 people lined up for the chance to step behind the Miramichi sandstone exterior of the newly renovated home of the Munk School of Global Affairs during Doors Open Toronto.
Posted on June 12, 2013
Exceeding all expectations, more than 3,000 people visited the newly renovated home of the Munk School of Global Affairs during the 14th annual Doors Open on May 25-26.
Located on the grounds of the University of Toronto, it was one of more than 150 architecturally, historically, culturally and socially significant buildings across the city to take part in the event.
This year's Doors Open theme was "Creators, Makers and Innovators," and the event featured many older buildings that have been redesigned, re-invented and re-purposed into modern 21st-century spaces that host collaborative teams of imaginative people who are creating new ways of thinking, making and doing. No building epitomizes this more than the Munk School, which was joined in Doors Open by U of T's Robarts Library, the Leslie L. Dan Pharmacy Building, Burwash Hall and Regis College.
"Doors Open was a wonderful opportunity to welcome the thousands of people who streamed through the newly renovated Munk School building," says Janice Stein, Director of the Munk School of Global Affairs. "It is heartening to see the appreciation the public has for the careful stewardship of our heritage, the creation of wonderful new space for global learning in the shadow of one of the earliest national observatories, and the spectacular art that is in every nook and cranny of the building."
Professor Stein was on hand to give tours of the building's halls, library and unique meeting spaces, which marry original Romanesque Revival architecture with contemporary glass and steel interventions. It was originally constructed in 1909 as the home of the Dominion Meteorological Service and Observation Tower, which was instrumental in training pilots to identify weather patterns.
Thanks to the extraordinary vision and generosity of Peter and Melanie Munk, which in turn inspired a grant from the Province of Ontario, the building underwent a stunning redesign by KPMB Architects that was completed in 2012. The facility reflects both its historic character and its new purpose as one of the world's foremost sites for innovative, interdisciplinary research and education on the forces of globalization. An architectural expression of U of T's aspirations to prepare global citizens and meet global challenges, it also serves as a gateway to Toronto for visiting delegations, heads of state and experts from around the world.