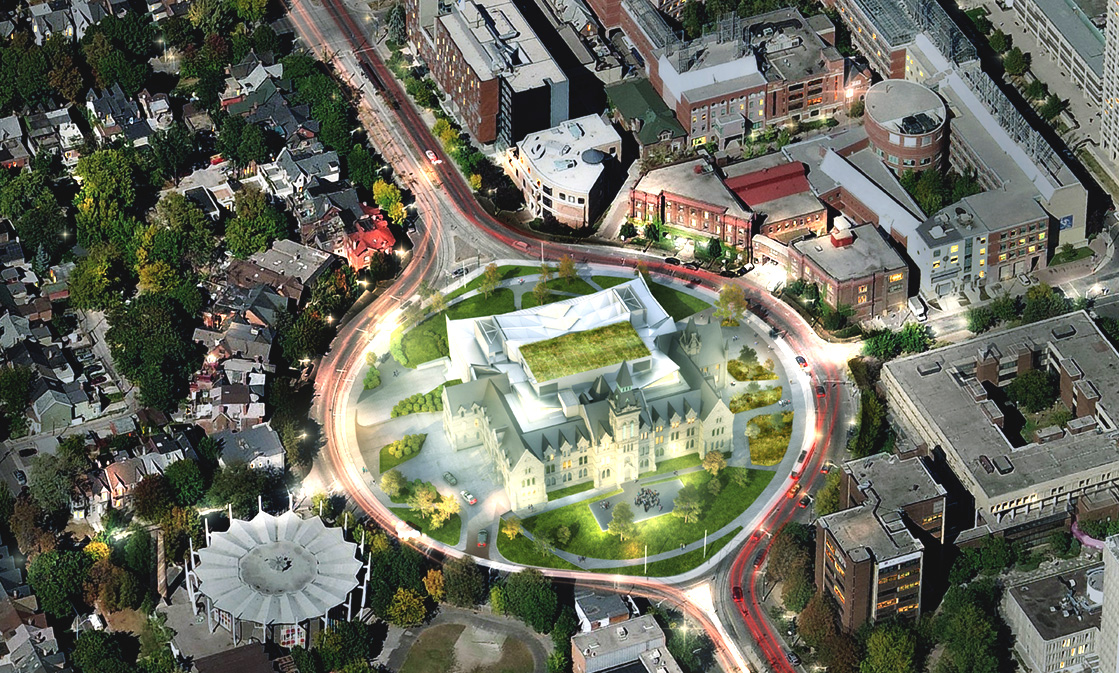 One Spadina Crescent will be the new home of the University of Toronto's John H. Daniels Faculty of Architecture, Landscape, and Design, a Toronto landmark where scholars will reimagine and envision the future of cities.
Posted on December 8, 2016
The renovated One Spadina building, scheduled to open its doors in Spring 2017, will bring together students and researchers from across the university to collaborate in the "messy art" of city-building and to envision an even better Toronto.
One Spadina's transformation into a landmark for Toronto was made possible by donations from alumni and friends, including the remarkable contributions of John H. Daniels and Myrna Daniels, which total $24 million–$19 million of that gift was earmarked for One Spadina, with the remaining $5 million designated for scholarships. John Daniels (BArch 1950, Hon. LLD 2011), the founder and chairman of The Daniels Corporation, says his education at the faculty laid the foundation for a highly rewarding career, enabling him now to give something back. "This school means a great deal to me," he says. "It's the basis for my success."
With the transformation of this iconic building almost complete, the faculty will double the size of its current facilities and create a new and unprecedented district at the University of Toronto for education, research and public outreach on architecture, urbanism and the visual arts.
"A school of architecture with a scale and character as ambitious as the city itself"
Richard Sommer, dean of the John H. Daniels Faculty of Architecture, Landscape, and Design, arrived at U of T from Harvard University in 2007. He immediately noticed that U of T was already seeking answers to some of the city's most pressing challenges. But he wondered how U of T–and the faculty he was leading–could do more.
Sommer will answer his own question this spring when the newly renovated and expanded Daniels Faculty at One Spadina opens its doors. Over the next few months, the Faculty will move into the restored Gothic Revival building at the western edge of the St. George campus, and, over time, triple in size. As Sommer says of the undertaking, "U of T and the city needs a school of architecture with a scale and character that is as, or even more, ambitious than the city itself."
Designed by architects Nader Tehrani and Katie Faulkner, of NADAAA in Boston, the newly named Daniels Building will provide a platform for far-ranging debates and research about Toronto's ongoing urban experiment. "It's a messy art," Sommer says of city-building. Measuring urban problems isn't sufficient to produce great solutions. "To get a better city, you need to bring creative thinking and imagination to the game," he says. "The problems we face now can't be addressed with a singular type of expertise."
A hub for community engagement, collaboration and impact
Connecting students and faculty with residents, community groups and advocacy organizations is central to Sommer's goal of linking U of T's urban scholarship to the city at large. "These opportunities for engagement are critical to the success of our research," he says.
Sommer sees the Daniels Building as a kind of urban "skunk works," which is to say a place where people from many disciplines and backgrounds collaborate on the toughest problems facing 21st-century cities such as Toronto: transit, open space, housing and urban design. Over time, the Daniels Building may evolve into a hub for U of T's research on a range of urban issues, connecting students and researchers in engineering, political science and social work with those in architecture and urban design.
He also stresses that the Faculty is a place for expanding and amplifying discussions about issues that affect the outlying parts of the city. He notes that the Daniel Building will provide an enhanced platform for the faculty's research on such issues as delivering transit to low-density suburbs, and accelerating efforts to revitalize the 1960s apartment buildings that many new immigrants call home.
As Sommer says, the Faculty's new digs, and the Daniels' gift that transformed a long-neglected Toronto landmark, come at a critical time. "This building allows us to become something much larger, with much greater potential to make a huge impact."