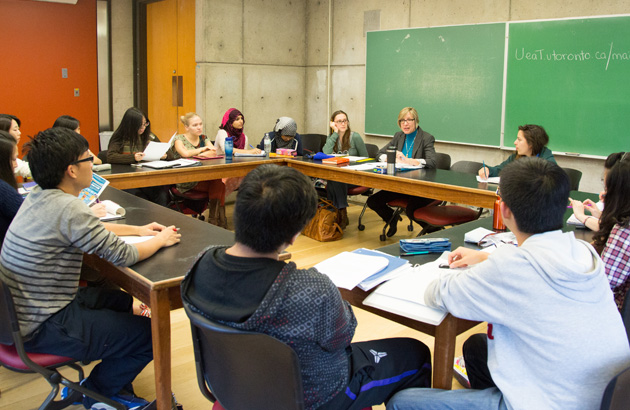 The New One program got started this fall at New College—celebrating its 50th anniversary this year— with the help of a generous $1-million gift from an outstanding graduate and strong supporter, Richard Rooney (B.A. 1977).
Posted on October 4, 2012
New One: Learning Without Borders, gives first-year students a chance to take part in small learning communities and weekly plenary sessions, and have one-on-one interaction with faculty members.
Pioneered by Victoria College and now being adapted across the University of Toronto's three campuses, One Programs foster intimate learning experiences within a vast intellectual environment. First-year students in groups of no more than 25 pursue a common curriculum that permits them to approach ideas, events and issues from a multidisciplinary perspective. By investing in smaller learning communities, benefactors like Richard Rooney are ensuring that undergraduates access the full range of disciplinary excellence across the University in environments that are supportive, intimate and collegial.
"I grew up in a very small town, and coming to U of T and living in residence was my first time being anonymous in a large city," Rooney said. "Being part of a small community of my peers at New College was a very supportive environment, helped to make this transition easier, and was one of the best experiences of my life. I could think of no better way to give back to my college than supporting this new opportunity for students."
Rooney, President and CIO of Burgundy Asset Management Ltd., has a long association of support and volunteerism at the University of Toronto. He was Co-Chair of New College's previous campaign, past member of the Rotman Value Investing Advisory Board and currently he is Chair of the New College campaign cabinet. He has previously supported New College's Principal's Innovation Fund and residence expansion, and he saw investing in this new initiative as a way for his support to have the greatest impact.
"Thanks to the support of Richard, New One: Learning Without Borders, is now off the mark and running," said Principal Yves Roberge. "The program features courses that explore how we might build more equitable, just and successful societies through the lenses of food, language, digital media and across disciplinary borders. It builds upon U of T's ability to offer an unparalleled array of opportunities for first-year students to explore their interests, find their place in the university community, and assist in the successful transition to university life."
New College is celebrating its 50th anniversary with events scheduled throughout the year. The College aims to connect with the diverse members of its ever-growing community, and to bridge the generation gap between its current students and alumni. Among these was a revival of the Jacob Bronowski Lecture in the spring, a 50th Anniversary Scholarship Fund, and a new 50th Anniversary wordmark that appears across the campus.