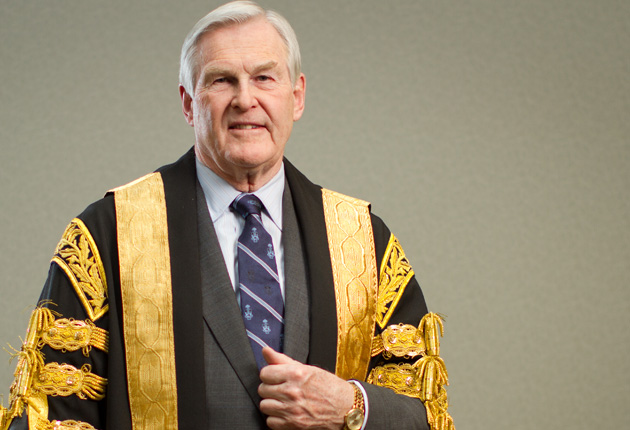 The Honourable Michael Wilson is installed as the 33rd Chancellor of the University of Toronto.
Posted on November 29, 2012
The installation of the Honourable Michael Wilson as the 33rd Chancellor of the University of Toronto marked the opening ceremonies of fall Convocation on the morning of November 12, launching a week of celebration for thousands of students, their families and faculty mentors. By the end of his first official week in office, Chancellor Wilson had already conferred nearly 4,000 degrees on undergraduate and graduate students from across all three U of T campuses. Earlier in the fall, Chancellor Wilson helped launch the $50 million campaign for St. Michael's College.
"The University of Toronto is Canada's leading institution of advanced research and research-intensive education – and one of the finest in the world," said Chancellor Wilson during his installation. "That status, that global reach and impact, is the result of the talent and hard work of the remarkable people who make up the U of T community. It is also the legacy of those who have gone before us. It is therefore a tremendous privilege for me, as an alumnus of this great, good place, to serve now as your 33rd Chancellor."
Michael Wilson's personal relationship with U of T goes back to 1955, when he arrived as a 17-year-old at Trinity College—48 years later, he would become Trinity's Chancellor from 2003 until 2006. The former Canadian Ambassador to the United States and federal Minister of Finance is the Chairman of Barclays Capital Canada Inc. Michael Wilson's extended biography can be found here.
Chancellor Wilson has frequently encouraged people to become "triathletes" and take on leadership roles in the private, public and non-profit sectors—his personal experience in all three will certainly come in handy during this new leadership role at U of T. On November 21, the University held a community welcome event with a reception at Hart House, where people from across these three fields of his life were in attendance.
At the event, Matt Chapman, President of the University of Toronto Alumni Association welcomed him as the University's head alumnus. "The role of Chancellor is much more than symbolic," Chapman said. "A Chancellor's reputation and breadth of experience, intelligence and success can open any door, or have any phone call returned. Who could say 'no' to leaders such as Rose Wolfe, Hal Jackman, Vivienne Poy or David Peterson? We are fortunate to find in Chancellor Wilson a leader of the same stature, charisma and grace as these icons of the University."
Also at the event, Chapman and President David Naylor unveiled a new Boundless Leadership banner for Michael Wilson, while David Palmer, Vice-President Advancement, welcomed him to the Campaign Executive team. The event took place the day after the one-year anniversary of the University campaign's public launch, and capped a very busy and fruitful season of community and alumni events across the University.
"We are fond of saying, and we mean it when we say it, that alumni are our greatest ambassadors," said David Palmer. "It's fitting, then, that the ceremonial head of our remarkable community of alumni, has himself served one of Canada's most distinguished ambassadors, with significant experience on the national and international stage. Chancellor Wilson is eminently qualified for this role, by virtue of his deep roots within the University, his long and distinguished service to the University as a volunteer, and his exemplary record of public and community service and private sector leadership."
55 years ago, the election of Chancellor was transferred from the senate to a committee made up of alumni and various governors. And since 1971, the Chancellor has been elected by graduates alone, through the College of Electors, which represents the constituent alumni associations of the UTAA.