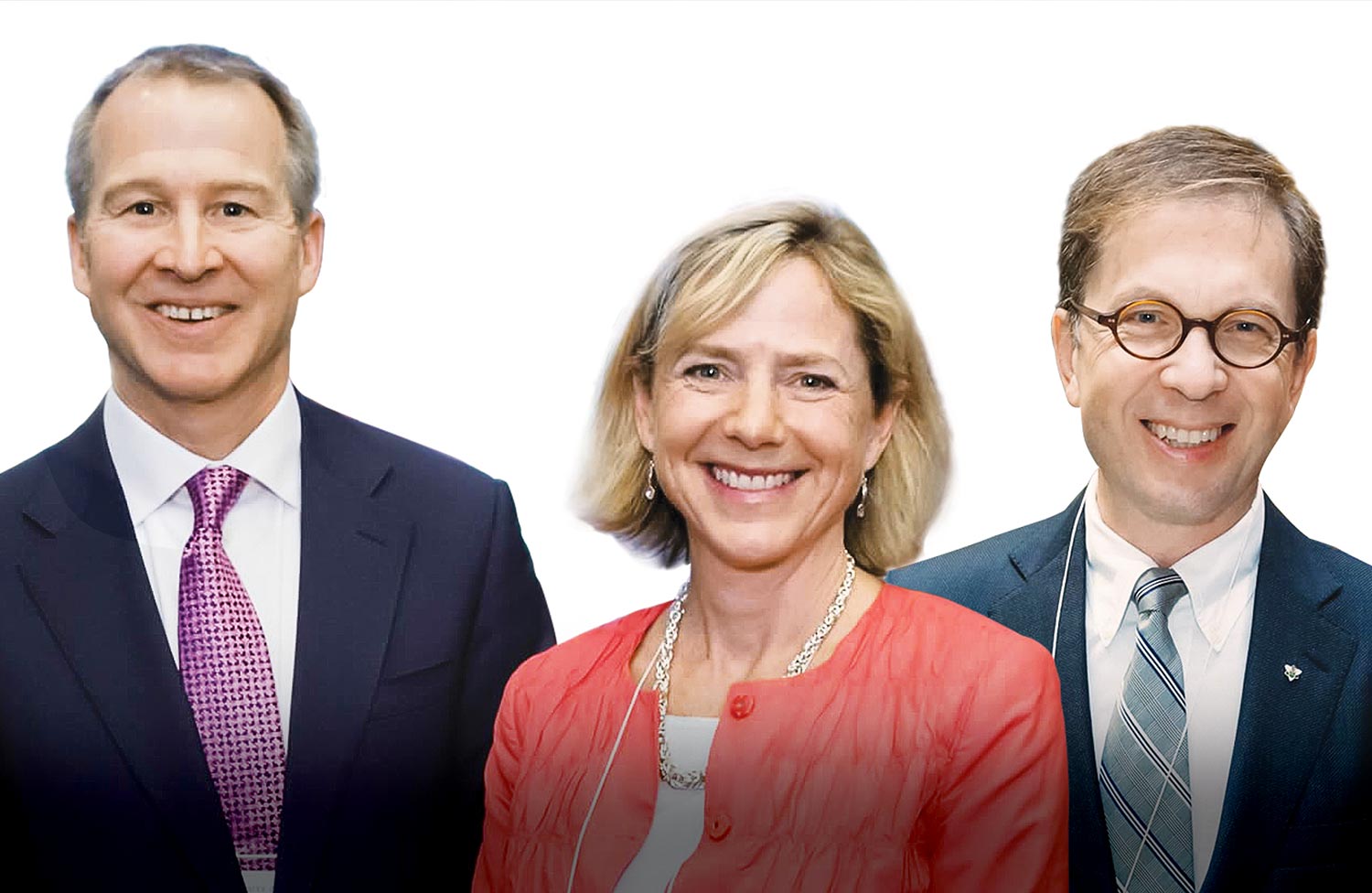 Like the University of Toronto's motto, Velut Arbor Aevo ("as a tree grows through the ages"), the work of U of T's campaign volunteers represents the roots that anchor the University's traditions and support its mission to meet global challenges and prepare global citizens.
Posted on February 29, 2016
U of T's Boundless campaign – which has raised more than $1.89 billion to date – benefits from more than 9,000 extraordinarily dedicated volunteers across a breadth of activity. Within this group are volunteer leaders who work closely with U of T's fundraisers to help develop a campaign strategy and  bring other donors to the table.
"Campaign volunteers can really open doors for fundraising staff," says Brian Bachand, the executive director of advancement at the Faculty of Medicine. He credits Medicine's campaign co-chairs, Michael (MD 1984) and Amira Dan (MA 2004) and Brian (BA 1982 TRIN) and Joannah (MIRHR 1989) Lawson, with being critical to the success of the faculty's $500 million campaign, which is now just 10%  shy of its goal. Along with their volunteer leadership, the Dans and Lawsons made major gifts to the campaign establishing the Brain Tumour Bank and the Joannah and Brian Lawson Centre for Child Nutrition, respectively.
"Despite their hectic schedules, Dr. Dan and the Lawsons put in countless hours to attend meetings, help us strategize on our philanthropic goals, and focus our efforts in the most efficient way possible," says Bachand.  They, like other campaign volunteers across the University, he says, bring an understanding of and connections within the Toronto community that can ultimately benefit the Faculty. "Partnerships are so critical to the success of any campaign and these individuals actively help us establish ones that align with our Faculty's priorities."
Michael Dan, who is also a member of the Boundless Campaign Executive and Vice-Chair of the the Dalla Lana School of Public Health Campaign Cabinet, says he is grateful to be able for the chance to contribute. "The Faculty of Medicine today is not what it was 30 years ago when I was a student – there are countless ways to contribute time and resources to the important initiatives taking place at U of T that will truly make a difference in the health of Canadians," he says.
Brian Lawson, who is also a member of the Boundless Campaign Executive, concurs: "We give our time to U of T's medical school because it is well positioned to conduct leading edge research and to influence policy, education and how medicine is practiced locally and globally. We are happy to be part of that."
David Scrymgeour (BComm 1979), Executive-in-Residence at Rotman Commerce, has given countless hours to help the commerce program reach its fundraising goals while also mentoring students. He believes that, "donating both time and money is more powerful than contributing either of these individually." In that spirit, Scrymgeour has set up three scholarships at Rotman Commerce and to date has mentored some 70 students in the program.  Scrymgeour says there is an enormous demand for volunteers at U of T, and finds himself on campus three to four days per week. "The University of Toronto is a fantastic environment and offers such a diversity of opportunities. If you have the time and inclination to become involved, you can find a perfect fit."
Campaign volunteers also play critical roles in supporting non-academic programs and strategies for activities that are not always academic-focused. Robin A. Campbell (BA 1979 TRIN, LLB 1981) is a volunteer for the campaign at the Faculty of Kinesiology and Physical Education. Campbell, the mother of two Varsity athletes, is spearheading a campaign for the track-and-field team, having previously volunteered as an adviser to the track program director.  "I give a tremendous amount of time and resources to the track team because I believe the opportunity to participate in international competition is a life-building experience for a young athlete," she says.