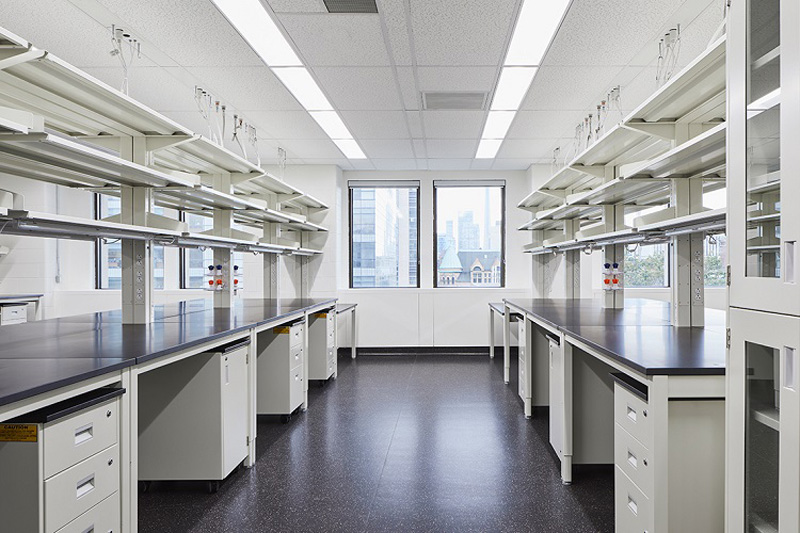 The $190-million Lab Innovation for Toronto (LIFT) upgrades, funded jointly by U of T and the federal and provincial governments, are complete, benefiting 1,100 researchers.
Posted on June 19, 2018
It takes more than a smart idea to achieve a breakthrough. Researchers also require space and equipment to carry out their experiments.
In less than two years, the University of Toronto has reached the finish line to renovate nearly half the research space across its three campuses. The Lab Innovation for Toronto (LIFT) upgrades received nearly $190 million in funding – $91.8 million from the University, $83.7 million from the federal government and $14.3 million from the province.
The revitalization spanned nine academic divisions with upgrades to medical, dental, biology, chemistry and engineering labs.
"This was a massive project, with renovations modernizing U of T's research labs to increase space and enhance the quality of research and discovery," says Scott Mabury, vice-president, university operations. "The investment also improves air handling and electrical systems, while creating utility savings and reducing greenhouse gas emissions."
The revitalized labs will benefit both researchers and students
At Lash Miller Chemical Laboratories in the Faculty of Arts & Science, there had been few renovations since 1963. Since the building houses chemistry research, it relies heavily on fume hoods, which draw fumes up to the stacks. With $23 million in funding, the University was able to replace the heating, ventilation and air conditioning systems building-wide so that they meet current codes. The new system includes heat recovery from exhausted air for reuse, increasing energy efficiency.
Up the block, the half-century-old Ramsay Wright Laboratories building also benefited from major improvements.
"The LIFT project has made a very significant impact on how we do research in our department," says Vincent Tropepe, professor and chair of the department of cell and systems biology.
The new labs are mostly open concept, facilitating collaboration. There is improved electrical and Internet connectivity and major HVAC upgrades to improve air circulation and environmental controls. The renovations have enabled researchers to meet new federal and provincial biosafety requirements.
Undergraduate and graduate students will see the benefits, Tropepe adds. "They will now be able to learn and flourish intellectually in an environment with far fewer barriers for collaboration and implementation of modern technologies and experimental approaches."
Making collaboration easier, increasing capacity
Adrienne De Francesco, executive director of the Capital Projects Group in University Planning, Design & Construction, says that in just two years LIFT has had a monumental impact on lab space across the University.
56 projects
17 buildings
47 per cent of all research space at U of T
1,100 researchers, 5,000 students benefited
$3 million in utility savings
"Going through some of these buildings and seeing what we had before and what we have now… it produces sort of a wow factor," she says. "The common theme is that we've had these aging buildings that are over 50 years old. We've been doing extraordinary research in them, and yet we've been doing it under not the greatest of conditions.
"This positions us to do even more or better research," she adds.
In the Faculty of Medicine, there have been much-needed improvements to research labs and support spaces – all in the Medical Sciences Building – and a nuclear magnetic resonance facility in the adjoining McMurrich Building.
"We had labs, teaching labs and the morgue (for the willed body donation program) that were unrenovated since 1968. They were in bad shape," says Heather Taylor, director of facilities management and space planning in the Faculty of Medicine.
Classrooms have become more spacious, while each work station can now be fully integrated with AV equipment for teaching. In the research labs, the cold rooms – which are like walk-in refrigerators – have been upgraded to a new lab licensing standard, Containment Level 2, so more experiments can be carried out. The building is now also equipped with freezer farms – rooms for freezers at temperatures of -150°C and -180°C for the long-term storage of research samples. The freezers are noisy and produce a lot of heat, so in the reconfigured building they were moved to their own rooms, which are properly ventilated, have emergency power and a monitoring system.
Labs on all three campuses have been revitalized
As with all other LIFT projects, the Medical Science Building renovation operated under a tight, two-year timeline. "I liken it to being on a very long flight, and you've landed the plane and everyone has applauded the pilots, but we're still taxiing to the gate," Taylor said. "We haven't arrived yet, but we're very close."
Immunology Professor Mario Ostrowski says the revamped labs will make it more efficient to continue his research on the persistence of viruses like HIV and hepatitis C. Whereas the labs were once cramped and crowded, they now enable more students to do research simultaneously at a Level 2 bio-safety standard.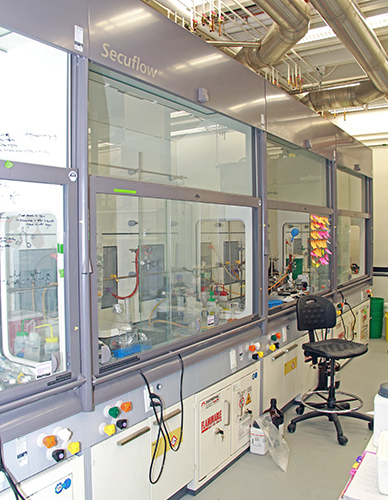 "All of the equipment has been essentially updated. The work space and work modules are updated," he said. "It will attract young people who want to work in our laboratory because of that."
Similar improvements have been made in the Faculty of Dentistry. The faculty's main building opened in 1959 while several researchers continued to work out of a building erected in 1927. "The previous lab spaces were small, contained and limited our faculty's ability to perform, simply due to infrastructure," Daniel Haas, dean of the faculty, told U of T News last winter. "The new space will allow for sharing of research and cross-pollination for ideas between researchers."
Everything is top-of-the-line. It's bright, clean and modern
U of T Scarborough received $18.3 million in matching funds to upgrade facilities in the Science Wing of the Andrews Building, including 20 labs and the campus vivarium. They also made improvements to air quality and energy efficiency.
"While the Andrews Building has held up remarkably well for more than 50 years, in some respects it was showing its age," says Jennifer Adams Peffer, U of T Scarborough's campus architect.
"These upgrades will address some longstanding concerns, but more importantly will create a higher quality experience for those who work, study and pass through this architecturally significant building."
At U of T Mississauga (pictured above), the Davis Building underwent renovations affecting 63 labs and nearly 7,000 square metres of space. Some of the renovations are behind-the-scenes – involving back-up power, updated electrical power and air handling. But at two large labs run by Professor Angela Lange, of biology, and Assistant Professor Andrew Beharry, of the department of chemical and physical sciences, the improvements are immediately visible. There are new high-efficiency fume hoods, cell culture rooms and dedicated microscope suites and quarantine rooms.
"Everything is top-of-the-line," says Brandon Lawrence, assistant director of planning design and construction. "It's bright, clean and modern. The fume hood system is fully customizable, and saves a lot of energy."

By Geoffrey Vendeville with files from Don Campbell and Nicolle Wahl