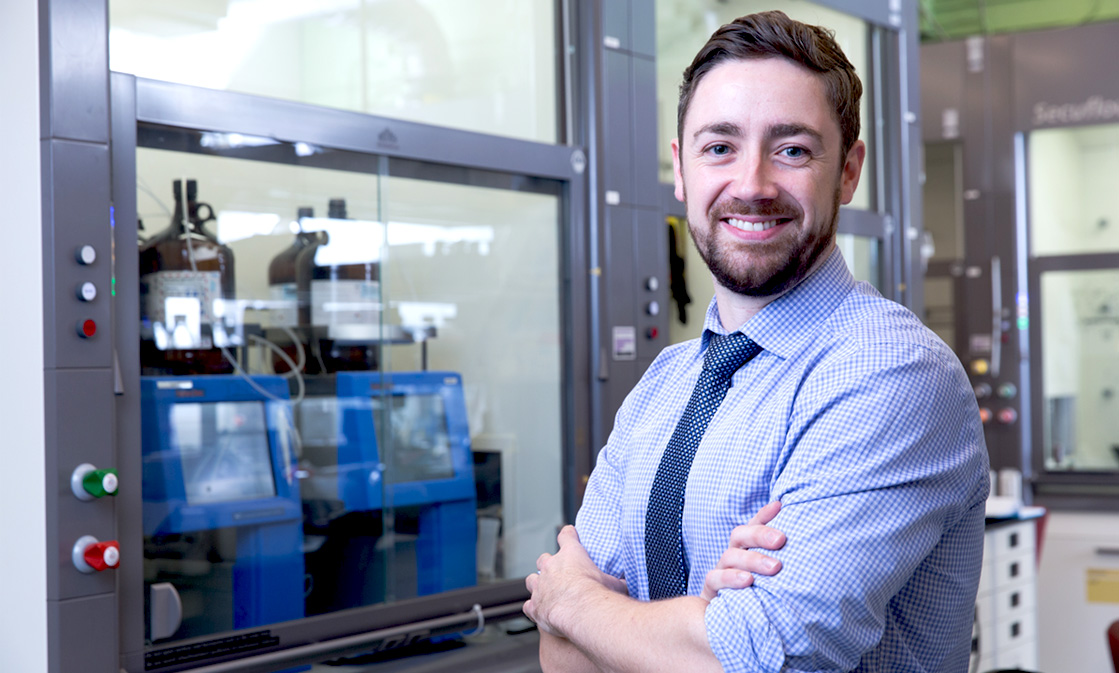 Groundbreaking discoveries for treatment of rare and hard-to-treat children's brain cancers were the inspiration for a new $7-million gift from the Orlando Corporation to the Centre for Medicinal Chemistry at U of T Mississauga.
Posted on December 8, 2016
The next cancer breakthrough could very well happen in a bustling lab in the new Centre for Medicinal Chemistry at U of T's Mississauga campus, where Prof. Patrick Gunning and his team are designing molecules to stop disease right where it starts—at the cellular level. In the process, the new Centre will kick-start the life sciences industry in Peel Region and change the way research and development are done in Canada.
Gunning's lab already hums with people and equipment, but the $7 million from the Mississauga-based real estate company will scale up their output. "I am profoundly grateful for this incredibly generous investment," Gunning says. "For each patient, finding effective treatments is a race against time. With new equipment and new team members funded by this gift, we can test potential drugs much more quickly–perhaps 10 times as fast."
Engineering the molecules that could switch off cancer
In the Centre for Medicinal Chemistry, drug discovery isn't just about testing promising-looking chemicals. Gunning actually creates those chemicals, through molecular engineering. The interdisciplinary team includes computer data experts to analyze how molecules interact in cells, cancer biologists who identify how these chemical interactions promote tumour growth, and bioengineers and chemists who synthesize novel molecules that can actually manipulate the cellular processes that lead to cancer—literally switching them off.
It's an exciting prospect. "We are delighted to contribute to the establishment of the Centre for Medicinal Chemistry," said Phil King, Orlando's president. "The impressive record of the Gunning lab in early research trials promises great things for the future of cancer research."
Changing the way academic labs do research
With the new investment, the Centre will hire four new principal investigators, and each will hire about 20 researchers, mostly students. These students will graduate ready to step into the life sciences industry already growing in the region, and with discoveries made in the lab that will let them file patents and launch commercially viable spinoff companies.
What's more, the Centre's new resources, including collaborative access to the tissue bank built by Mississauga hospital group Trillium Health Partners, will allow Gunning to bring much of his molecule testing in-house. While outsourcing preclinical testing to other labs is standard in the industry, being able to conduct preclinical trials in U of T's own lab will be a first for an academic setting. That's naturally attractive to the top talent Gunning hopes to recruit.
"The Centre for Medicinal Chemistry will become a research hub of leading Canadian scientists," says Professor Ulrich Krull, interim vice-president and principal of U of T Mississauga. "And it will position UTM as a key player on an international scale." Combined with other gifts to the Mississauga Academy of Medicine and the City of Mississauga's $10-million grant to build the Innovation Complex, the city is poised to become a destination for young people seeking to make their mark in the life sciences. And, if the molecules shake into place, a global player in the fight against cancer.